Digitisation and the School by Mike Douse
By Mike Douse, Freelance International Educational Consultant.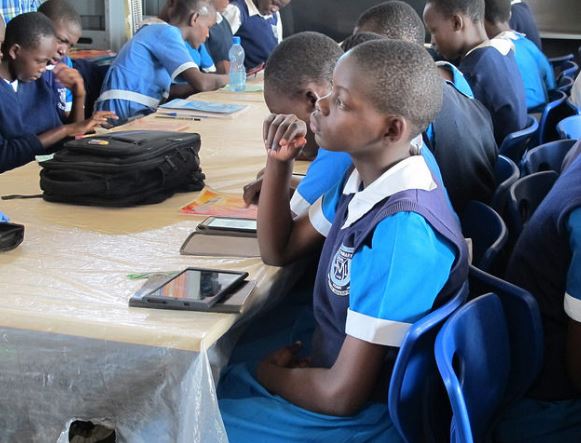 Over four decades ago, as Foundation Director of Australia's Disadvantaged Schools Program, along with my colleagues I pondered on how the leading ('Great Public' i.e. private) schools could assist those serving the nation's most underprivileged communities. Some years later, assessing the UK's Assisted Schools Programme (now archived), we wondered how well-funded private colleges could sustain and mentor the most poorly-maintained state schools. And over many more recent years, working with development partners supporting education in some of the world's poorest and most fragile communities, we considered how successful schools in developed countries could somehow link up with those serving the poorest of the poor, inter-continentally and beyond all borders.
Such well-intentioned conjectures are no longer relevant. Linkages and partnerships are as outdated as spirit duplicators and fax machines. Contemporary technology makes feasible – nay essential – an entirely fresh and utterly integrated approach. With digitisation, it is no longer a matter of this well-endowed school assisting this struggling school: unification has overtaken bestowment, all schools everywhere have become The School.
For digitisation is not just central to the debate on effective and equitable education worldwide: it is the debate. Considerations of Sustainable Development Goals, universalisation, student assessment, vocational skills development, education and training governance along with personal fulfilment and enjoyment make sense only in the context of digitisation. And this crucial recognition depends upon an appreciation of The School.
The School is the rural school for hungry children in disadvantaged areas of Haiti, Burundi and Nepal. It is the fee-paying college serving the sons and daughters of prosperous parents in a leafy suburb of any European capital or resort. It is the academy for teenage would-be computer engineers and specialist doctors in Johannesburg, Beijing and New York. It is the mixed-age class run in tents by volunteers for up-to-sixth-generation juveniles in refugee camps from Aqabat Jaber on the West Bank through Nauru by way of Lesbos on to Dadaab and Darfur. It is Moriah College in Sydney and Dawakin Tofa Science Secondary School in Kano State and Kings School in Cardiff and the reformatory for young offenders in Abu Dhabi and the second-chance street school for dropouts in Dhaka or for rascals in Port Moresby.
It is the school around the corner, continually reappearing in unprecedented configurations – it is all forms of educational institutions, everywhere. It is not the 'school of the future'. It is the 'whole school approach' made manifest for the digital age – for the present continuous 'now'. Its essential components include:
Learners: active, engaged, for life, committed to personal development, information and digitally literate, mobile, collaborating, sharing their learning globally;
Connectivity: rapid, reliable, uninterrupted and affordable (free) access;
Teachers: well-prepared (academically and digitally) and well-led professional educators, delivering, facilitating and assessing digitally-supported learning, and guiding, supporting and counselling the learners, sharing their teaching materials globally;
Devices: appropriate mobile appliances for every learner [unspecifiable this morning, as there will be rapid changes in handling, versatility, on-line support methodologies and cost minimisation];
Software: attractive, contemporary and proven learning modules (with teachers' guides) at all levels in all subjects in every relevant language plus background materials, further reading, self- and teacher-administered-tests [but similarly unspecifiable here, as there will be a massive surge in the availability and ineffable variety in the nature of such materials];
Inclusion: all learners, full- and part-time, on-campus and distant, irrespective of age, gender, beliefs, abilities or disabilities, are welcomed and individually catered for; and
System: geared to optimising learning through, for example, exemplary school leadership, continuous professional development of teachers, participation of family and community, accreditation of curricula and qualifications, extra-curricular activities (sport, drama, debating, service organisations…), careers guidance and progress to higher, further and lifelong education.
The challenge is not to improve education in and for this Digital Age – the necessity is to reinvent it for our times. While there is some value in applying ICT as a cross-sectoral enabler (e.g. as one of many components in an educational intervention) or as a tool within an organisation for better service delivery and outcomes (e.g. as an EMIS or in efficient textbook production and delivery), the absolute priority is for all learners worldwide to participate in The School.
Mike has been continuously involved in international educational development since 1963. MJDouse@gmail.com
NORRAG (Network for International Policies and Cooperation in Education and Training) is an internationally recognised, multi-stakeholder network which has been seeking to inform, challenge and influence international education and training policies and cooperation for almost 30 years. NORRAG has more than 4,500 registered members worldwide and is free to join. Not a member? Join free here.
(Visited 181 times, 1 visits today)