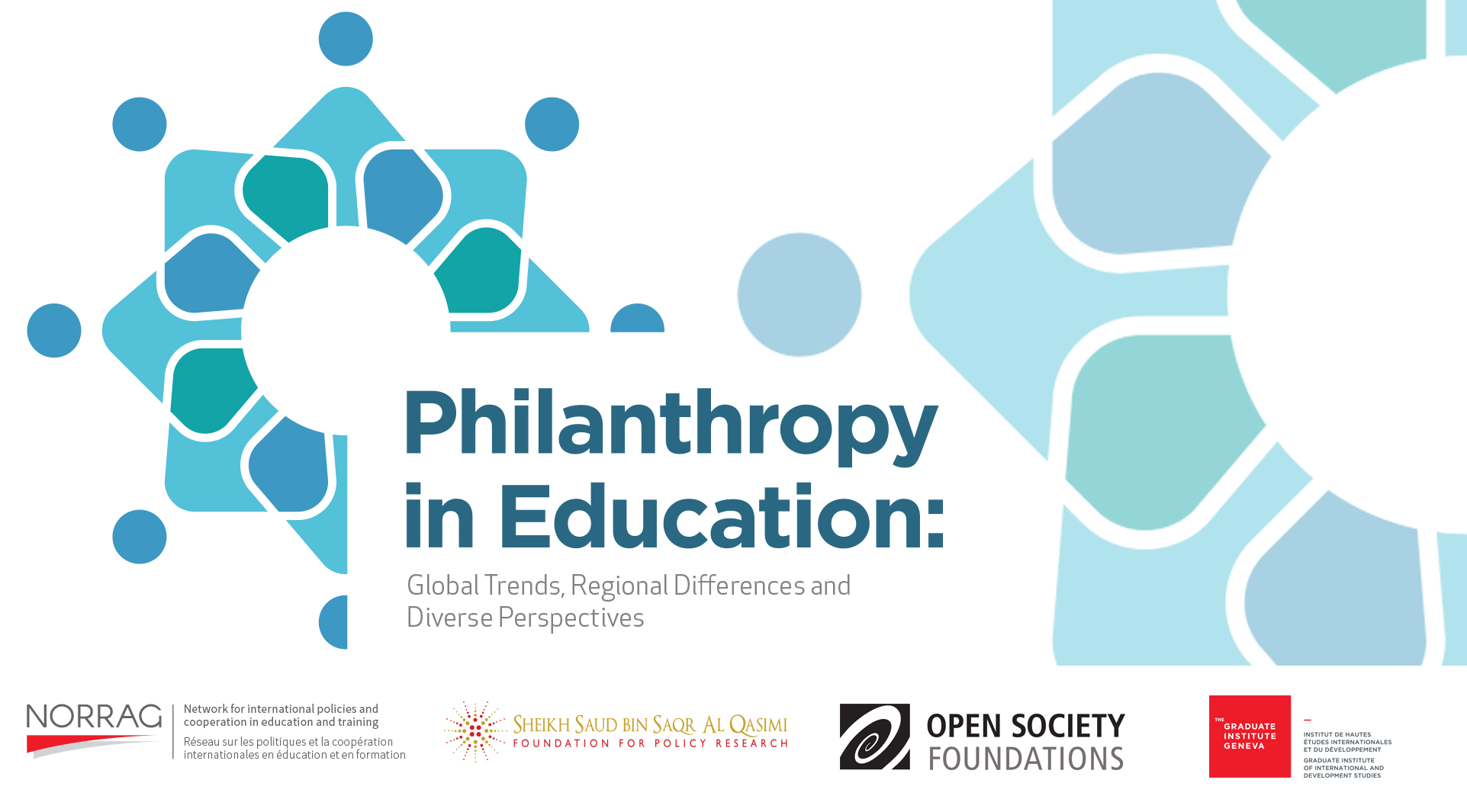 NORRAG Prepares to Welcome Participants to Geneva for the Inaugural Symposium on Philanthropy in Education by Gita Steiner-Khamsi, Joost Monks and Arushi Terway
In one week NORRAG will welcome some 200 participants from across the globe to the Inaugural Symposium "Philanthropy in Education: Global Trends, Regional Differences and Diverse Perspectives". The Symposium, which takes place at The Graduate Institute in Geneva on 22-24 November 2017, will bring to the fore issues and debates related to philanthropy in education.
The Philanthropy in Education Symposium Series has been launch and co-sponsored by NORRAG, Sheikh Saud bin Saqr Al Qasimi Foundation for Policy Research, Open Society Foundations and The Graduate Institute of International and Development Studies. It is also made possible with support from the Education Network of the Swiss Agency for Development and Cooperation. It seeks to facilitate greater understanding and collaboration between philanthropic organisations, national policymakers, representatives from international organisations, civil society organisations, and academics working in this field. This Inaugural Symposium in Geneva marks the start of a two-year series of symposia, which will take place across the globe. Following the Geneva symposium, other regional symposia in the Philanthropy in Education series are scheduled to take place in Francophone Africa, India, People's Republic of China, North America, Anglophone Africa and Latin America. The series will conclude with a symposium held in Ras Al Khaimah, UAE in 2019.
This topic has gained prominence in the global education community, yet the role of philanthropy in education remains understudied. Whilst education stakeholders unanimously agree that government and donor funds for educational reform in developing countries are inadequate, to date there was been limited conversation about how private donors could fill this gap. While indeed, the question remains – should the private sector fund education given that governments are traditional responsible for providing education provision under the social welfare state?
A host of other questions arise when considering private sector involvement in funding education: How does the relationship between the public and private sector change as a result of philanthropic activities? Is there such a concept as socially responsible, equity-driven, and sustainable giving? What is the relationship between philanthropic principles and social impact investment in education? Are there regional and organisational differences in how philanthropies operate? How do motives, rationales and mechanisms of philanthropic activities differ with the heterogeneity of private donors? To whom and how are private donors held accountable? What lessons can be learned from other sectors (e.g., health sector) or specific areas within the education sector (e.g., early childhood education and vocational-technical education)?
These are but a few relevant questions, which will contribute to a constructive and lively debate over the course of the three-day Symposium. The Symposium will comprise of two plenary sessions as well as a number of parallel sessions, exploring diverse topics such as transnational collaborations in higher education; diversity in philanthropic engagement; effectiveness of Public Private Partnership; non-state actors and education policy; and the role of philanthropy in global policy dialogue; philanthropies responding to education funding gap. The Symposium will be opened by Arushi Terway from NORRAG and Natasha Ridge from the Sheikh Saud bin Saqr Al Qasimi Foundation for Policy Research. Their  presentations will set the stage for the following three days by bringing to the fore questions concerning new actors and approaches for innovative education and tentative attempts for a typology of philanthropic giving in education.The Symposium will also feature keynote speeches from distinguished individuals, including Prof. Stephen Ball of the University College London Institute of Education, Prof. Noah Drezner of Columbia University and Maya Ziswiler of the UBS Optimus Foundation.
We hope that this Inaugural Symposium will enrich the philanthropy in education debate and help set the research agenda for the following symposia of the series. We look forward to welcoming participants in the coming days.
If you would like to follow the Symposium, selected sessions will be available to watch on our live stream which will be available on our Facebook Page. We will also be posting regular updates through our @norrag Twitter feed, using the hashtag #philanthropyinEd
(Visited 507 times, 1 visits today)