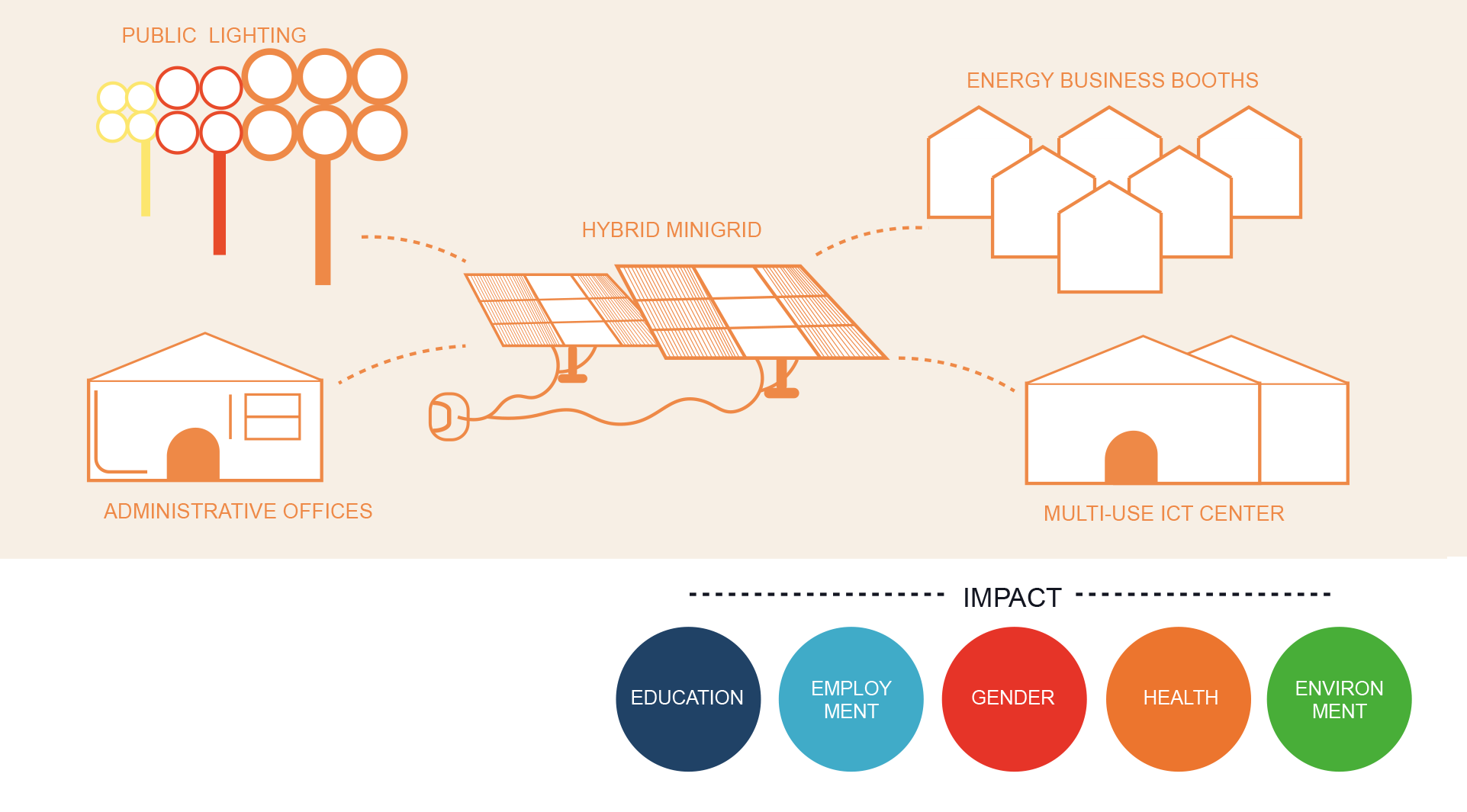 Let local governments and small-scale organizations lead us towards Sustainable Development
In this Blog post, Radhika Iyengar, Director of Education at the Center for Sustainable Development, The Earth Institute, Columbia University, advocates for countries local-level interventions targeting multiple Sustainable Development Goals (SDG) objectives. She gives an example of such initiatives: a solar-powered "Computer Center for Women" in Telangana state of India and Bhopal, Madhya Pradesh.  
Sachs et. al. (2016) released the first ever SDG Index and Dashboards report in July 2016. The report highlighted the hope of many countries for meeting the SDGs. With the end of the Millennium Development Goals era in 2015, the UN along with its 193 member countries pledged to meet seventeen sustainable Development Goals. Three years down the line, what have we learned about the progress of countries attempting to meet the SDGs?
For tracking the seventeen SDGs and their 230 indicators, a cumulative index makes the progress chart easier to digest. Sachs et. al. (2016) take available data from 149 countries and rank them based on the SDG Index. Unsurprisingly, Sweden tops the list with a score of 84.5 followed by Denmark (83.9), Norway (82.3), and Finland (81.0). The United States ranks at 25th place with a score of 72.7 and India ranks at 110th place with a score of 48.6. The SDG Index is highly correlated to the Human Development Index and passes the robustness test in this regard.
Using the same methodology, the published SDG dashboard uses color coding, from green >orange>yellow>red to illustrate the SDG status for each country. The color-coded dashboard shows that South Asia and sub-Saharan have shown important advances, but across the board, falls behind in indicators for poverty (SDG1), hunger (SDG2), health (SDG3), education (SDG4) and infrastructure (SDGs6-9). The report calls out for an "urgent action" to meet the SDGs.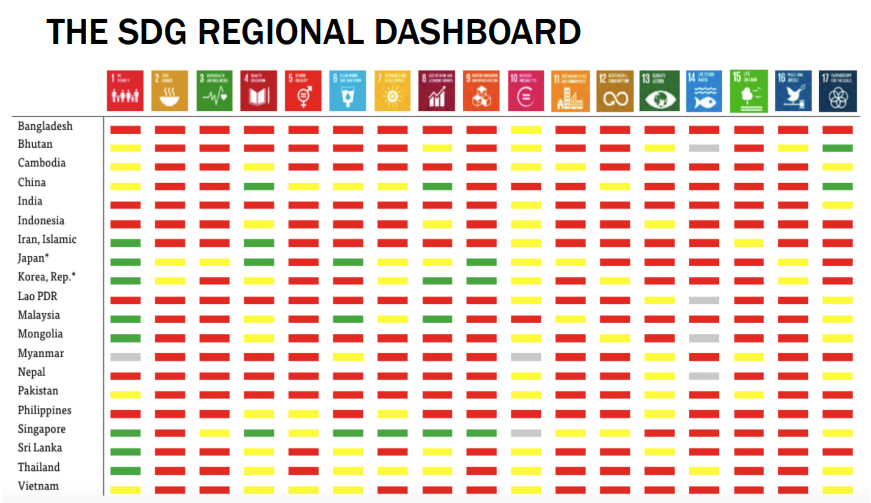 While national level policy initiatives such as India's Right to Education Act can provide frameworks to meet the SDGs, they cannot drive the action on the ground. For ground level implementation, local districts and their various stakeholders need to make the policies actionable. One such intervention is being planned in Telangana state of India and Bhopal, Madhya Pradesh. The project will run a solar-powered "Computer Center for Women" with specially-designed vocational courses. Solar power will help to re-enforce eco-awareness and to meet the environment SDGs. The project's main solution is to provide a "brave space" where women are encouraged to challenge their engrained biases and assumptions, particularly those that serve to repress themselves, using digital tools enabled by renewable energy, to access new information, share ideas and communicate with women who have faced similar challenges. The training sessions will be held at the Center equipped with computers and connectivity, during hours that best fit the participants' daily schedules, most likely in the evenings. Given the backdrop of local community preference and issues identified during a needs assessment, programs will be open only to women in the community. This local level initiative will help to realize the integrated nature of the SDGs by targeting SDG4- Education, SDG 5- Gender, SDG 7- Clean Energy, Goal 1 –Poverty, Goal 2-Hunger to name only a few. It also provides growth in a sustainable way and addresses the 4 pillars of sustainable development – peace and justice, economic empowerment, environment and social goals.
The objective is for women to become confident citizens aware of their rights, able to grow their businesses and engage in civic life for improved life quality. This transformational change will be slow on the up-take, but seeds of change must be sown now to close the gender-divide within the current generation.
Since SDGs are inter-sectoral by concept and design, the interventions need to be multi-pronged as well. Focusing on local-level interventions that meet multiple SDGs will help to initiate a cumulative effect at the district and regional levels. India requires education plans to be made at the district level under the Sarva Shiksha Abhiyan (Education for All movement). This localization of the education policies can provide local adaptation and prioritization of national level policies.  It is likely that a bottom-up strategy that is community-driven has more chances of creating an impact at the national level as opposed to a top-down approach. Local NGOs, small-scale enterprises and district governments should lead the path towards sustainable development.
Image source: Haein Shin, Radhika Iyengar, Tara Stafford Ocansey, Joaquin Aviles Lopez, Patricia Oviedo: Under one Roof, Bringing Digital Skills, Solar Energy & Hope for Future Employment.
Reference
Sachs, J., Schmidt-Traub, G., Kroll, C., Durand-Delacre, D. and Teksoz, K (2016) SDG Index and Dashboards- Global Report. New York. Bertelsmann Stiftung and Sustainable Development Solutions Network (SDSN)
Disclaimer: NORRAG's blog offers a space for dialogue about issues, research and opinion on education and development. The views and factual claims made in NORRAG posts are the responsibility of their authors and are not necessarily representative of NORRAG's opinion, policy or activities.
Contribute: The NORRAG Blog provides a platform for debate and ideas exchange for education stakeholders. Therefore if you would like to contribute to the discussion by writing your own blog post please visit our dedicated contribute page for detailed instructions on how to submit.
(Visited 477 times, 1 visits today)