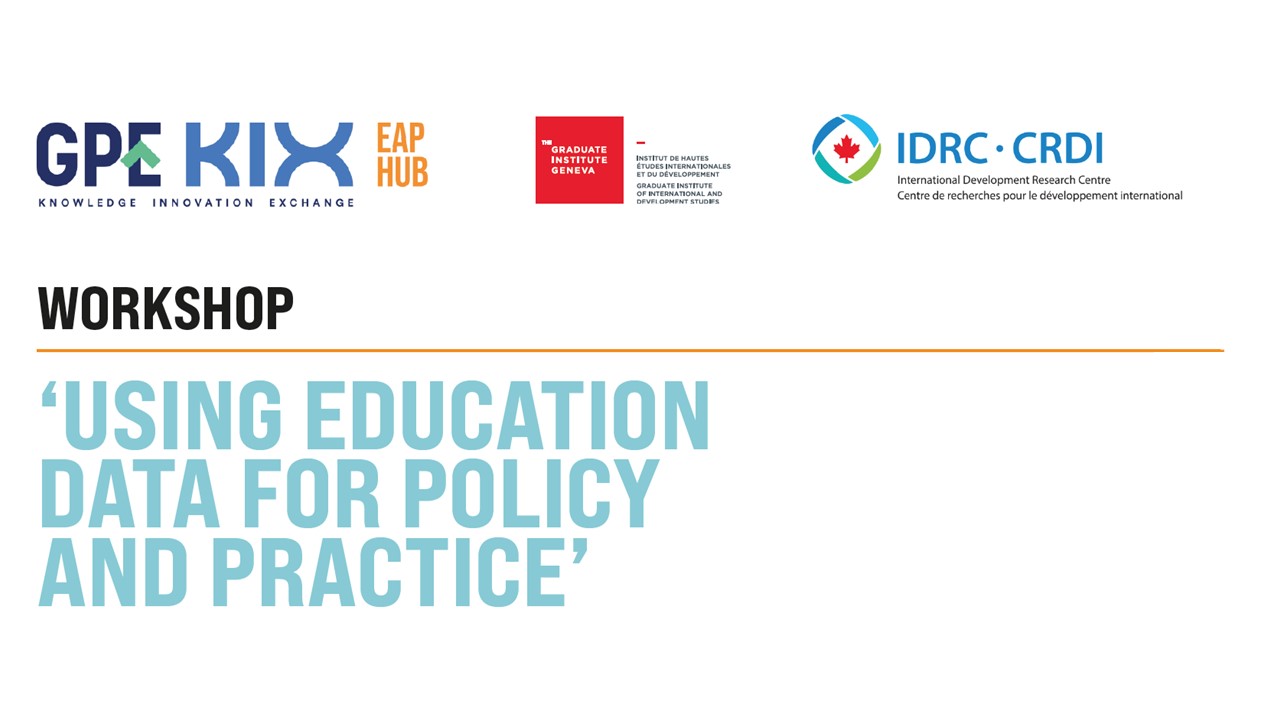 Event highlights: KIX EAP Workshop "Using Education Data for Policy and Practice"
The KIX EAP hub organized an online workshop on 23 and 24 March 2022, on how to source, conceptualize, and use education data from international sources to address gaps in current data regimes from a global and regional perspective with an emphasis on education inequalities. Each day comprised of two-hour sessions led by James Shoobridge, Senior Education and Information Systems Adviser. The workshop engaged different education stakeholders, including education officers at all ministry levels,  academics, and policy experts. Following a call for applications, the workshop counted 51 participants (51% women) from 14 KIX EAP countries.
The workshop provided an opportunity for participants to explore existing global and local education data and how to use data to identify gaps and inequalities in their education systems. Participants were introduced to a range of global online data platforms, types of data, and how data is disaggregated, exported and displayed for different audiences. It was an opportunity to learn more about the structures of data systems in KIX EAP countries and how EMIS can be strengthened to account for data and address equity issues related to education access, participation, and learning outcomes.
Основные моменты события: Семинар KIX EAP "Использование данных об образовании в политике и на практике"
23 и 24 марта 2022 г. Хаб KIX EAP организовал онлайн-семинар о том, как получать, концептуализировать и использовать данные об образовании из международных источников для устранения пробелов в текущих режимах данных с глобальной и региональной точки зрения с акцентом на неравенство в образовании. Каждый день состоял из двухчасовых занятий под руководством Джеймса Шубриджа, старшего советника по вопросам образования и информационных систем. В семинаре приняли участие различные заинтересованные стороны в сфере образования, в том числе работники образования на всех уровнях министерств, ученые и эксперты по вопросам политики. После приема заявок на семинаре присутствовал 51 участник (51% женщин) из 14 стран KIX EAP.
Семинар предоставил участникам возможность изучить существующие глобальные и местные данные об образовании и узнать, как использовать данные для выявления пробелов и неравенства в их системах образования. Участников познакомили с целым рядом глобальных онлайн-платформ данных, типами данных и тем, как данные дезагрегируются, экспортируются и отображаются для разных аудиторий. Это была возможность узнать больше о структурах систем данных в странах EAP KIX и о том, как можно укрепить EMIS для учета данных и решения вопросов справедливости, связанных с доступом к образованию, участием и результатами обучения.
أبرز الأحداث: ورشة عمل KIX EAP إستخدام بيانات التعليم في السياسات والممارسات
نظم مركز KIX EAP ورشة عمل عبر الإنترنت في 23 و 24 مارس 2022 ، حول كيفية الحصول على بيانات التعليم من المصادر الدولية ووضع تصور لها واستخدامها لمعالجة الثغرات في أنظمة البيانات الحالية من منظور عالمي وإقليمي مع التركيز على عدم المساواة في التعليم. يتكون كل يوم من جلسات لمدة ساعتين بقيادة جيمس شوبريدج ، كبير مستشاري التعليم ونظم المعلومات. شارك في ورشة العمل مختلف أصحاب المصلحة التربويين ، بما في ذلك مسؤولي التعليم على جميع مستويات الوزارات والأكاديميين وخبراء السياسة. بعد دعوة لتقديم الطلبات ، ضمت ورشة العمل 51 مشاركًا (51٪ نساء) من 14 دولة من بلدان منطقة شرق آسيا والمحيط الهادئ
قدمت ورشة العمل فرصة للمشاركين لاستكشاف بيانات التعليم العالمية والمحلية الحالية وكيفية استخدام البيانات لتحديد الفجوات وأوجه عدم المساواة في أنظمة التعليم الخاصة بهم. تم تعريف المشاركين على مجموعة من منصات البيانات العالمية على الإنترنت ، وأنواع البيانات ، وكيف يتم تصنيف البيانات وتصديرها وعرضها لجماهير مختلفة. لقد كانت فرصة لمعرفة المزيد عن هياكل أنظمة البيانات في بلدان برنامج KIX EAP وكيف يمكن تعزيز نظام معلومات الإدارة EMIS لحساب البيانات ومعالجة قضايا المساواة المتعلقة بالوصول إلى التعليم والمشاركة ونتائج التعلم.
(Visited 431 times, 1 visits today)