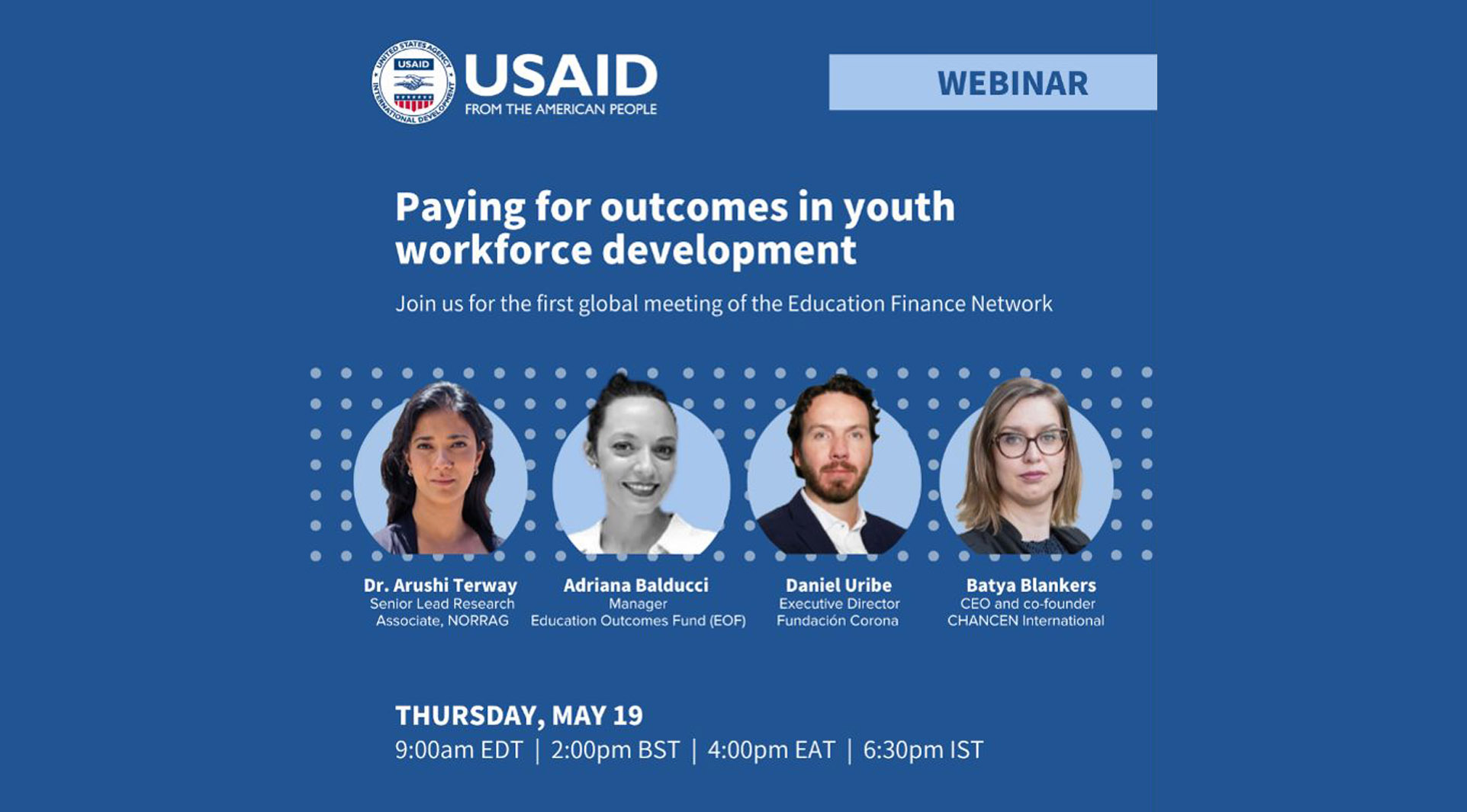 Paying for outcomes in youth workforce development
Dr Arushi Terway, NORRAG Senior Lead Research Associate, will speak at "Paying for outcomes in youth workforce development" a webinar hosted on 19 May 2022 by the Education Finance Network. The online conversation on Result-Based Financing (RBF) will blend the evidence-based perspectives of Dr Terway with insights from industry experts who have engaged directly with RBF instruments, including Impact Bonds, Income Share Agreements and Outcome Funds.
Ensuring that students have the necessary skills to enter and succeed in the workforce has become increasingly important in expanding opportunities for employment. Workforce development programs typically seek to help individuals attain the education and skills necessary to enter the job market by providing technical and vocational education and training (TVET).
In order to deliver these services, a number of results-based financing (RbF) initiatives have been developed. These mechanisms aim to provide more flexible funding that incentivizes the adoption of more innovative and evidence-based approaches.
Date: 19 May 2022
Time: 9:00 EDT / 15:00 CET
Location: ONLINE (Zoom Webinars)
The panel discussion will be moderated by Dayoung Lee, Associate Partner at Dalberg and co-lead of the Education to Employment Practice.
Panel
Dr Arushi Terway, Senior Lead Research Associate, NORRAG
Adriana Balducci, Manager, Education Outcomes Fund
Daniel Uribe, Executive Director, Fundación Corona
Batya Blankers, CEO and co-founder, CHANCEN International
For more on NORRAG's work on Innovative Finance for Education, check our IFE project page.
(Visited 39 times, 1 visits today)