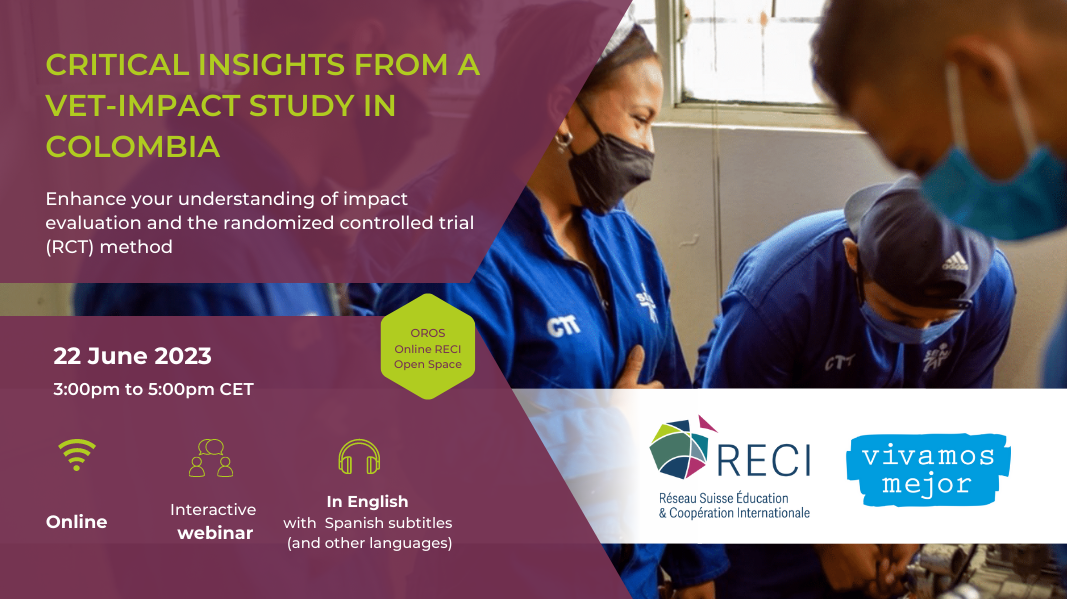 OROS : Critical Insights from a Vocational Education and Training-Impact Study in Colombia, June 22
Date: June 22, 2023
Time: 15:00 – 17:00 CEST
Online
Language: English
In 2018, Vivamos Mejor commissioned researchers of the University of Lausanne and the Universidad de los Andes to carry out a Randomised Controlled Trial (RCT) to understand the impact of its approach combining vocational education and training (VET) with youth empowerment*. The study aimed to find out whether this combined intervention helps disadvantaged young adults in their personal development in terms of mental health resilience and better labour market integration. The results indicate that the youth empowerment program offered important complements compared to stand alone VET.
In this OROS we will reflect on
the strengths and limitations of impact evaluations, especially RCTs
minimum requirements for implementation
RCT contribution to evidence-based learning
… and exchange of experiences from the Global South
Join us online on 22 June from 3-5 pm  for this webinar, which will be held in English!
* Youth empowerment of Vivamos Mejorconsists of psychosocial support, soft skills and peace-building skills development, as well as labour market placement.
(Visited 23 times, 1 visits today)