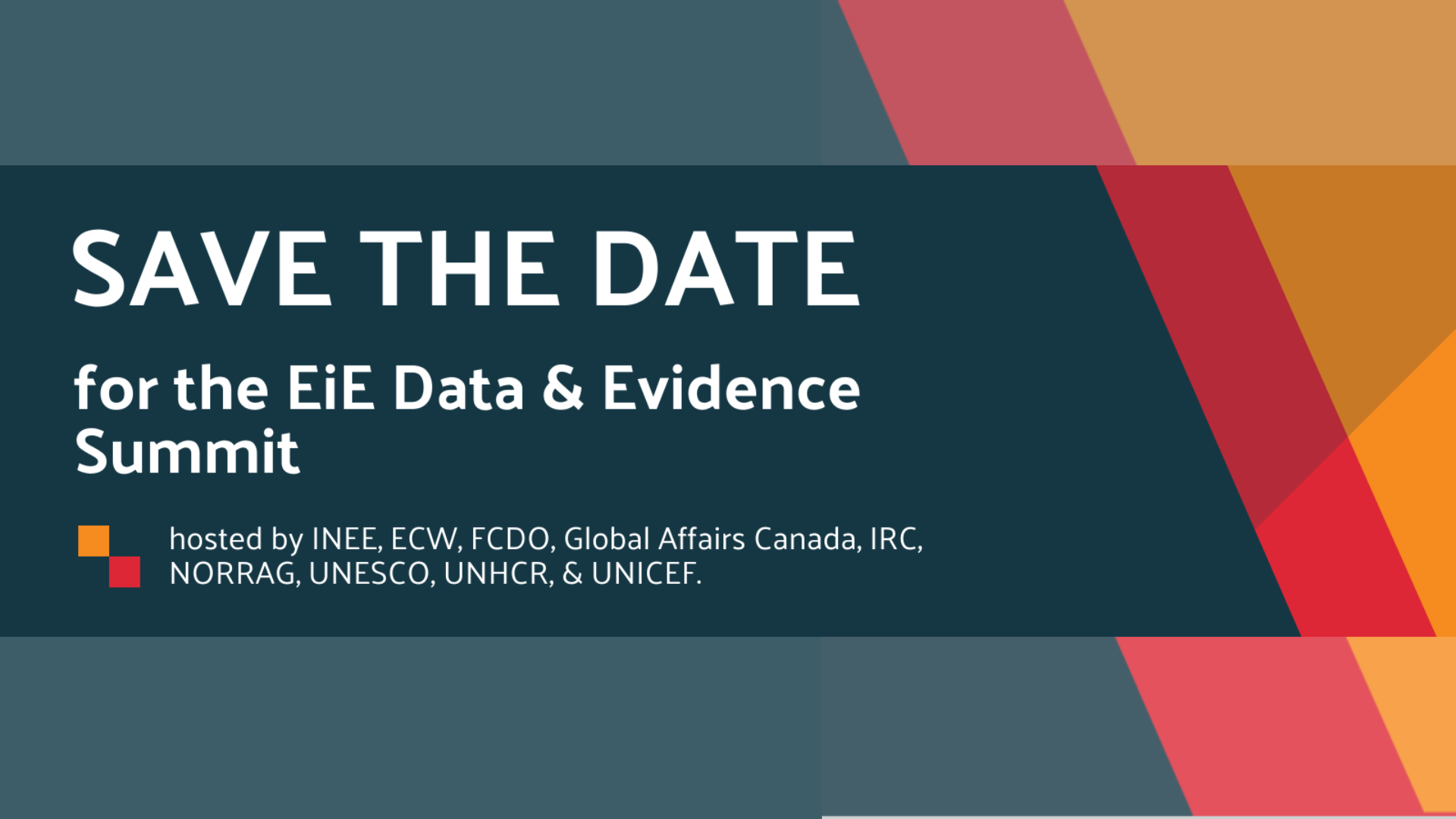 05 Apr 2023
Maison de la Paix, Geneva, Switzerland
EiE Data & Evidence Summit, Geneva Switzerland - June 6-8
We are delighted to invite you to participate in the EiE Data & Evidence Summit from 6-8 June at the Graduate Institute in Geneva, Switzerland. This summit is hosted by INEE, Global Affairs Canada (GAC), the Education Cannot Wait Fund (ECW), the International Rescue Committee (IRC), the Network for International Policies and Cooperation in Education and Training (NORRAG), the UK Foreign, Commonwealth & Development Office (FCDO), the United Nations Educational, Scientific and Cultural Organisation (UNESCO), the United Nations High Commissioner for Refugees (UNHCR), and the United Nations Children's Fund (UNICEF).
To register, please complete this online form by Tuesday April 11th. If you require visa support or sponsorship please rsvp by Friday April 7th.
The EiE Data & Evidence Summit will convene policy makers, ministries of education, data technical experts, researchers, practitioners, and donors to collectively strengthen the education in emergencies (EiE) data and evidence ecosystem as a key component of ensuring that crisis-affected populations have access to quality, inclusive, equitable, and safe education. Discussion will be grounded in a review of progress to date since the 2019 EiE Data Summit. Recommendations and proceedings from the event will be summarized in a Summit Report and summative Action Agenda, which will directly inform the vision for prioritization and resourcing of activities and future data and evidence work.
As a participant, you will:
Share promising practices, pathways and processes for generating, sharing, and using data and evidence to strengthen system resilience across the humanitarian-development nexus;

Critically examine the effectiveness of the existing data and evidence ecosystem, mechanisms and knowledge sharing platforms, as well as coordination across global, regional, and national levels in order to identify gaps and opportunities to improve the the ecosystem; and

Collaborate with key stakeholders working to strengthen data and evidence on education for refugee, internally displaced, and host community children and youth at local, regional, and global levels.
This summit is a milestone in a three-year initiative led by INEE and Global Affairs Canada in partnership with ECW, FCDO, IRC, NORRAG, UNESCO, UNHCR, and UNICEF to strengthen the EiE data & evidence ecosystem through the establishment of an EiE Data & Evidence Action Agenda and tracking of subsequent progress towards that agenda. An agenda detailing daily summit sessions will be shared soon.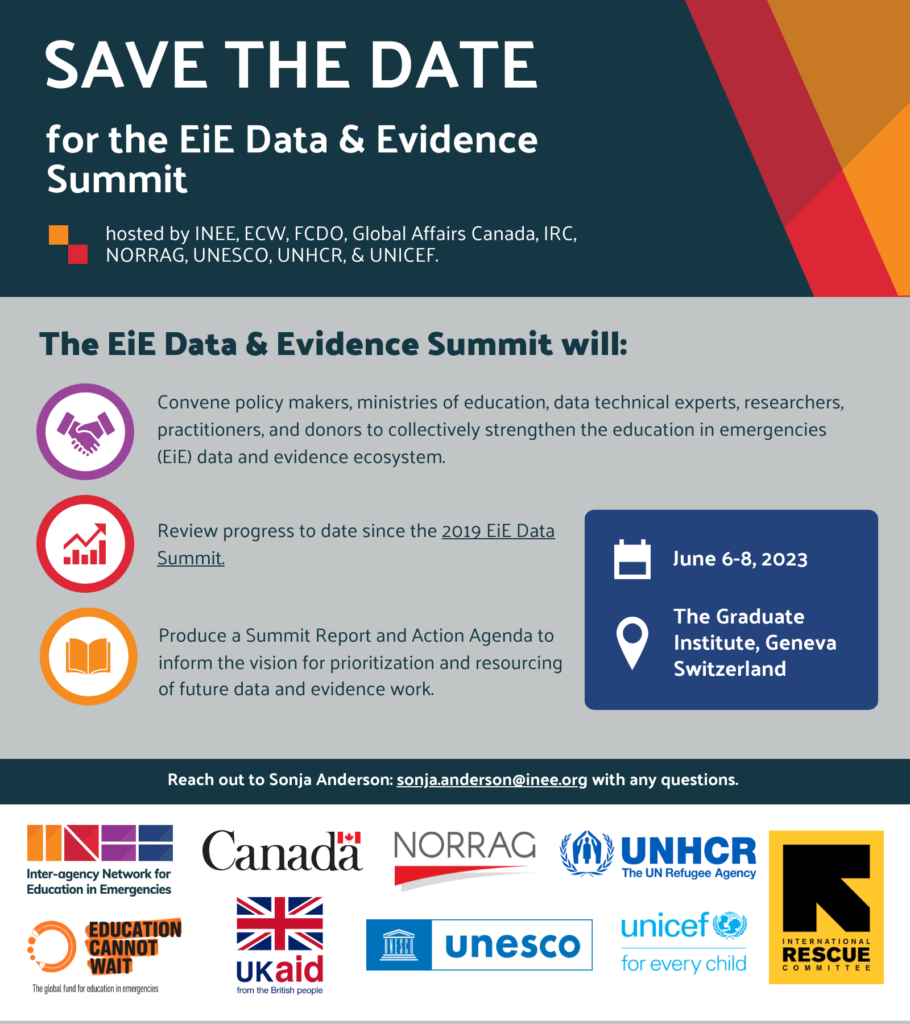 This summit is primarily an in-person event. However, we understand that not everyone will be able to join us in person. We will be offering modified virtual participation for those who cannot join in person.
Discussions will be held in English. We will do our best to make interpretation available based on participant needs.
Each participant is responsible for their own travel, meals, and accommodation for the duration of the summit. A logistics note will be shared closer to the date but we recommend arranging travel well in advance to ensure a variety of options and economical choices.
Limited travel sponsorships (including travel, accommodations, and meals) are available for national education actors; if you are in need of such sponsorship, please note your need in the registration form. Your request for sponsorship will then be reviewed by the summit organizers.
(Visited 405 times, 1 visits today)