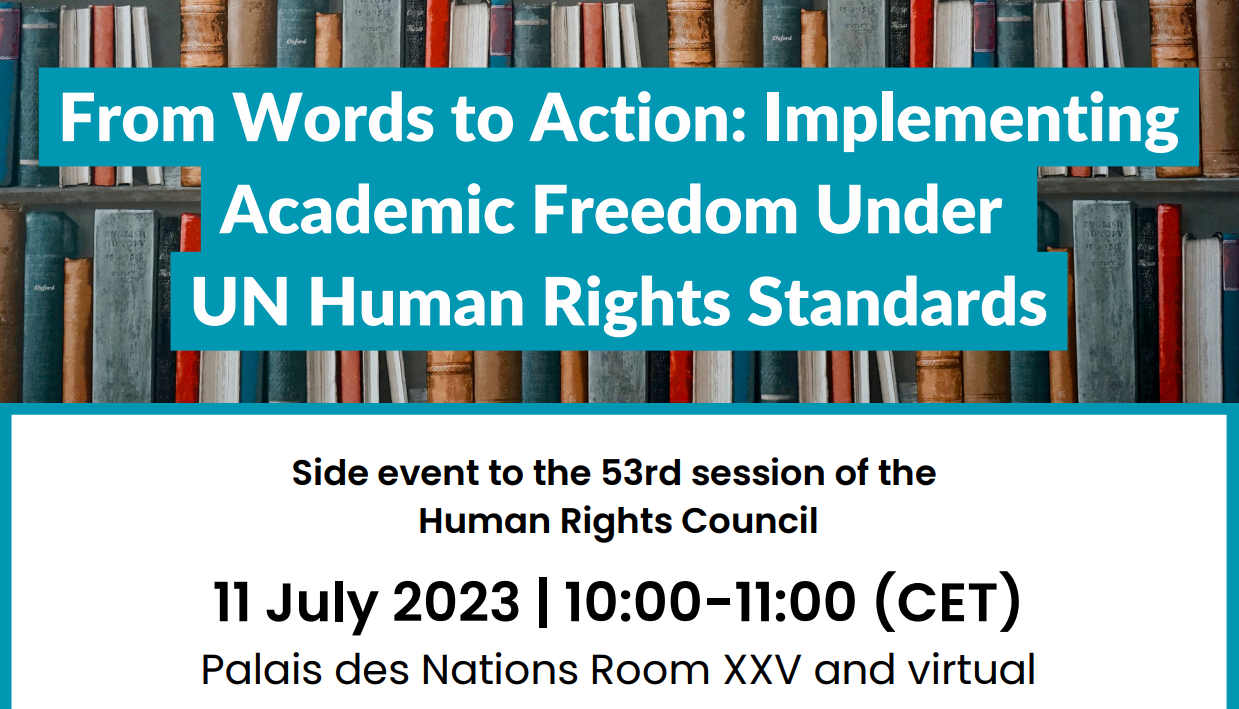 Implementing the Right to Academic Freedom: tomorrow, 11 July 2023 at 10:00-11:00 (CET)
Join the Special Rapporteur on Education, Ms. Farida Shaheed, along with other expert panelists on Tuesday 11 July 2023 at 10:00-11:00 (CET), either in person at Palais des Nations, Room XXV or virtually via Webex, at a side event convened by Scholars at Risk and co-sponsored by the Uruguayan, Portuguese, EU, and French Missions to the UN in Geneva, to discuss developments and new guidance on the implementation of the Right to Academic Freedom.
The event will build on the success of the Joint Statement on Academic Freedom delivered at the UN Human Rights Council Session in March this year, and signed by 74 countries, as well as recent progress in support of academic freedom, including the 2020 report on academic freedom by the UN special rapporteur on the protection and promotion of the right to freedom of opinion and expression, and UNESCO's parallel advancement of the conversation on science and scientific freedom. It is intended to concretise existing progress within the UN, as well as within regional and national systems, and at the institutional level. The event will bring together relevant UN mandate holders, State Missions, international experts, and other stakeholders. The discussion will focus on existing human rights standards, and introduce new guidance, Principles for Implementing the Right of Academic Freedom, (available in English, Arabic, Chinese, French, Russian, and Spanish), developed by an international working group of scholars, advocates, UN staff and others, as a framework for dialogue and activity that moves beyond statements of broad principle by offering concrete guidance for assessing and promoting implementation of academic freedom in practice in various contexts.
(Visited 66 times, 1 visits today)