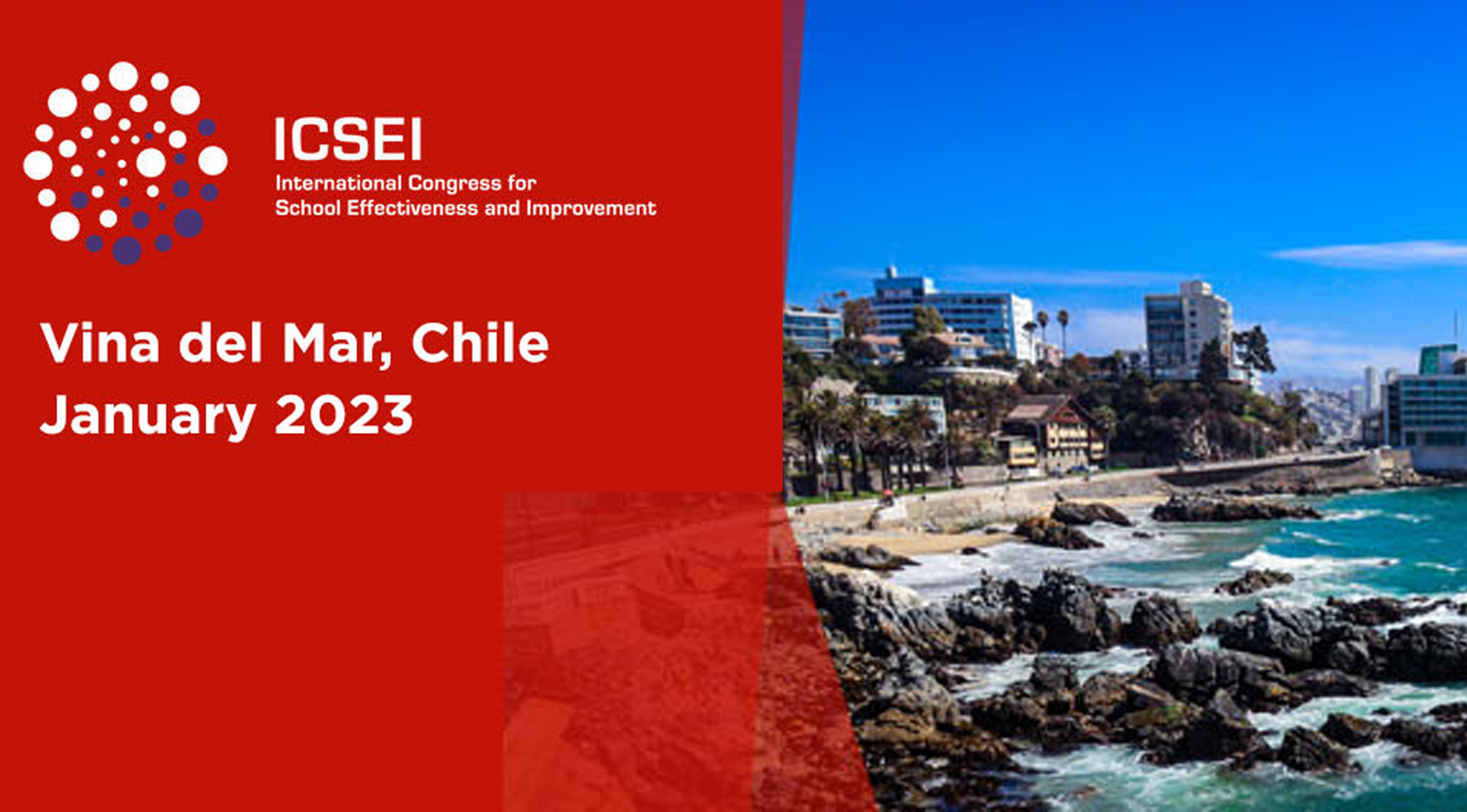 Call for Proposals: 2023 International Congress for School Effectiveness and Improvement (ICSEI)
The International Congress for School Effectiveness and Improvement (ICSEI)  has launched a call for proposals for its 2030 Congress to be held in Viña del Mar, Chile on 10-13 January 2023. For more information on how to submit, read below or consult the call for proposals here. To register for the conference, please click here.
About the 2023 Congress
The theme of the 2023 Congress is Educational Systems under Challenging Circumstances: Global Perspectives, Collaboration and Local Solutions for Reimagining Schooling.
Like the rest of the world, Chile has had to face the impact of the Covid-19 pandemic. It forced the entire population to adapt to a new reality in which work, study and all daily interactions occurred virtually, often under extensive lockdown and social distancing. The effects of school closures in the different countries, and certainly in Chile, are beginning to be researched and understanding them requires more analysis from a global, collaborative and multidisciplinary approach. Covid-19 accelerated the need to create, test and apply new solutions for a changing and unpredictable world. Consequently, education professionals who prepare students to face an increasingly complex and uncertain world must also learn how to meet these challenges.
How do we adapt? What should we do now? How do we ensure student learning and well-being in this context?
In this uncertain context, many challenges for the educational system must be confronted. This is especially true in a country where the very disparate realities of the population are reflected, to a great extent, in the educational system. The system itself is marked by differences between public and private; rural and urban; and students whose parents are college graduates and those whose parents are not. Furthermore, differences in technological access, communication difficulties and many other realities result in disparate needs among different educational communities. Meeting students where they are is a challenge that can be addressed though innovation and a systemic perspective on issues of inequality.
We need to do more than adapt to the new reality. We need to envision new possibilities stemming from our capacities to work locally from a global perspective and to collaborate across countries with educational communities to identify solutions that respond to the demands at different local contexts. Then, and only then, will we be able to deliver an education where all students can engage in meeting the needs of the 21st century.
Key Dates
15 March 2022 – Call for proposals
15 April 2022 – Proposal submission system open
15 June 2022 – Proposal submission deadline
1 June 2022 – Registration opens
1 August 2022 – Notification of successful proposals
9 January 2023 – Pre-conference sessions
10 – 13 January – Main conference
Proposal Selection and Topics
ISCEI Networks
All proposals must be submitted to one of the ICSEI networks. This information will also be used in the program to allow participants to more easily identify papers and sessions by network. ICSEI consists of seven networks:
Crisis Response in Education Network
Data Use Network
Early Childhood Education and Care Network
Educational Leadership Network
3P Network for Policymakers, Politicians, and Practitioners
Methods of Researching Educational Effectiveness and Improvement MoR∑) Network
The Professional Learning Networks Network
Further information about the ICSEI networks can be found at: www.icsei.net
ICSEI Congress Sub-themes
Beyond marketization: educational policies for rebuilding public education
Schooling post-COVID-19, lessons from a global pandemic
Data-based decision making for equity and collective professionalization
Leadership, trust, collaboration and professional networks
Innovation in education, framing problems and designing solutions
All submitting authors must identify the theme their proposal is most closely related to.
Submission requirements
The due date for proposals: 11:59 PM June 15, 2022 Central European Time (CET).
All proposals must be submitted via Conftool at https://www.conftool.com/icsei2023.
The Call for Proposals will be open from April 15 to June 15, 2022. All persons submitting proposals will be informed as to their acceptance by August 1, 2022.
All proposals should be submitted in English. Please note that the submitted abstract will be made available to all participants should the proposal be accepted.
All proposals will be blind refereed. They will be reviewed without the names of the authors and presenters (which will be submitted separately). Thus, the names of the organizers and presenters should not appear in the text of the proposals.
Proposal Session Types
Individual paper presentations
Symposia
Roundtable discussions
Innovate sessions
Learning Walkthroughs
Posters
Please direct any queries about proposal requirements or your ConfTool account to: conference@icsei.net.
For more information about the call for proposals, please click here to visit the ICSEI website or download the call for proposals (.pdf).
About ICSEI
ICSEI is a global community collaborating for enhanced quality, equity, and excellence in education, related to educational and school effectiveness and improvement. ICSEI's purpose is to influence the quality of education by providing an international forum for researchers, policy makers, and practitioners. ICSEI continues to provide a truly international forum for researchers, school and district leaders, teachers, local and national policy makers and politicians, NGO personnel, and consultants who come together to share ideas, promote research, and encourage practices that will enhance the quality and equity of education for all young people. Learn more
(Visited 513 times, 1 visits today)