The Graduate Institute, Geneva launches Sustainable Development Goals portal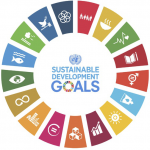 More than 140 staff, researchers and students are actively working on the SDGs and the 2030 Agenda for Sustainable Development at The Graduate Institute in Geneva. To share this work, a dedicated portal was recently launched by The Graduate Institute which aims to provide access to The Graduate Institute's work on the SDGs and the 2030 Agenda. The portal includes research projects, publications, events, teaching or external initiatives and partnerships spanning across all 17 goals.
The portal aims to encourage collaboration on work towards achieving the SDGs, both within The Graduate Institute and within broader international academic and policy circles.  Through the Portal research findings produced at The Graduate Institute can be put to good use in the policy world, where governments, non-governmental actors, scientists, academics, businesses and other actors are pervasively grappling with policy options and strategies that support the global SDG effort.
Gita Steiner-Khamsi, NORRAG Director and Michel Carton, Senior Advisor, NORRAG are both featured on the portal under the Faculty section.
The SDG Portal is available at http://sdg.graduateinstitute.ch
(Visited 318 times, 1 visits today)