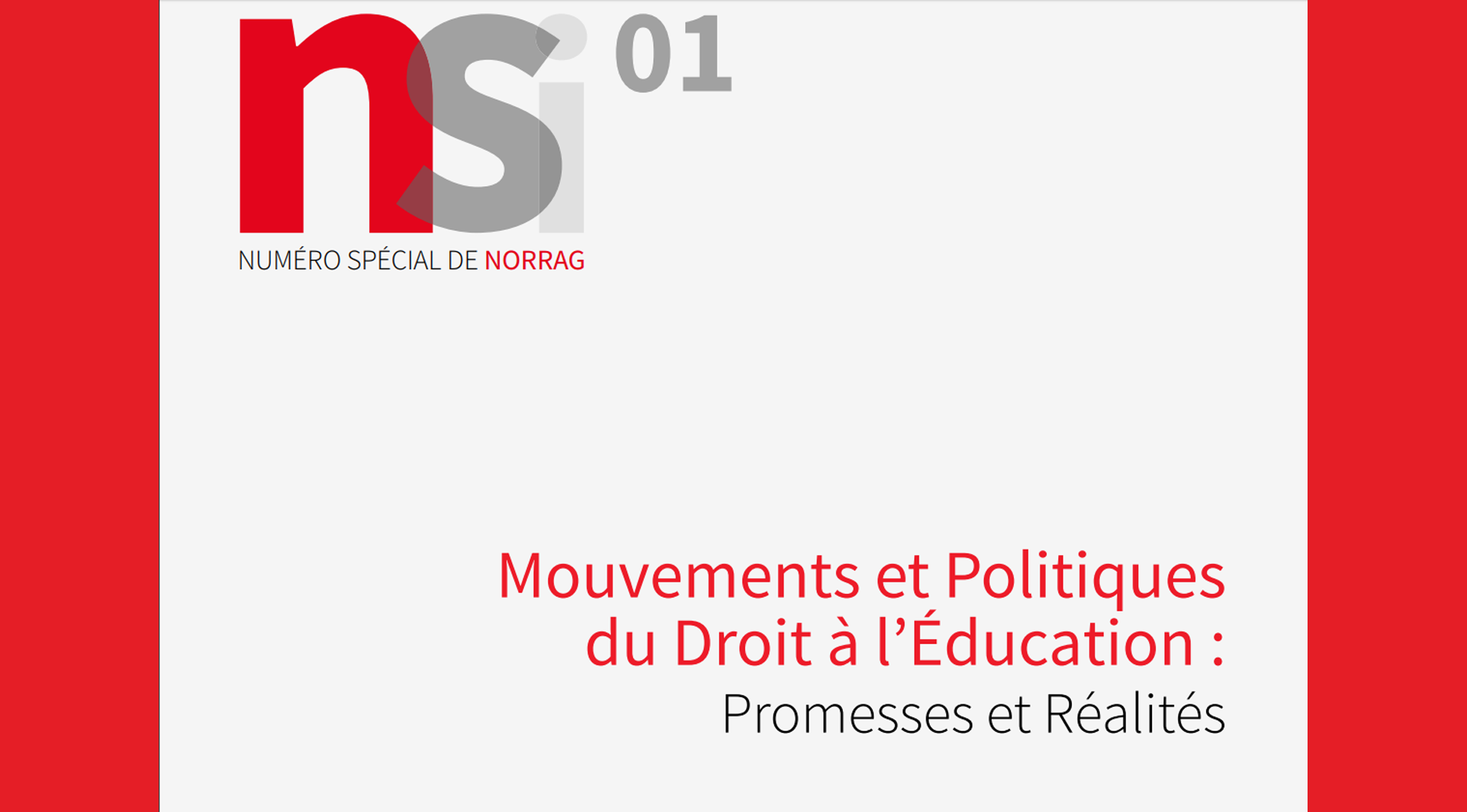 NORRAG Special Issue 01 in French: The Right to Education Movements and Policies: Promises and Realities
Voir cette nouvelle en français
The French contextualisation and translation of selected articles from NORRAG Special Issue 01: The Right to Education Movements and Policies: Promises and Realities is now available in the NORRAG Resource Library. NSI French was prepared by the NORRAG team.
NSI French 01 contains a selection of 12 articles from the inaugural issue in English published in January 2018, which is dedicated to examining international frameworks and national policy as well as the challenges of fulfilling the right to education in practice. It highlights global and national-level experiences and perspectives on guaranteeing the right to education in accordance with international agreements, national constitutions, legislation, and policy. This issue attempts to bridge the gap between theory and practice, and advocacy and policy, in international educational development.
On NSI, Dr.Koumbou Boly Barry, Special UN Rapporteur on the Right to Education said "NORRAG Special Issue 01 is a timely issue. In 2018, it has been 70 years since the convention on human rights was set up and especially its implementation started. It is useful to ensure we are able to take stock, so I thank NORRAG to have given us the opportunity to celebrate this milestone".

This project is part of NORRAG's ongoing work to translate and disseminate NSI through its partnerships with institutions in the Global South and East. Further contextualisation is available in Arabic, and further translations and contextualisation are expected in Spanish and Russian.
The NSI series aims to further decentralize NORRAG's knowledge production by promoting and engaging NORRAG members from the South. Guest editors Dr. Archana Mehendale and Dr. Rahul Mukhopadhyay, distinguished education scholars based in India, have developed this first volume which contains, in its English version, more than 30 contributions from academic researchers, UN organizations, civil society organizations, non-governmental organizations, and policy makers.

Download the Spanish, French, English, Chinese,  Russian and Arabic version of NSI 01 from the NORRAG Resource Library here: /nsi-01
—– version française —-
Numéro spécial de NORRAG 01: Mouvements et politiques du droit à l'éducation : promesses et réalités
La contextualisation et traduction française d'articles du Numéro Spécial de NORRAG 01 (NSI 01) : Mouvements et politiques du droit à l'éducation : promesses et réalités est maintenant disponible dans la bibliothèque de ressources numériques de NORRAG. La version française de NSI 01 a été préparée par l'équipe de NORRAG.
La version française de NSI contient une sélection de 12 articles du numéro inaugural en anglais, publié en janvier 2018, et consacré à l'examen des cadres internationaux et des politiques nationales sur les défis de la réalisation dans la pratique du droit à l'éducation. Ce numéro met en lumière les expériences et les perspectives mondiales et nationales sur la garantie du droit à l'éducation conformément aux accords internationaux, aux constitutions nationales, à la législation et à la politique. Ce numéro tente de combler le fossé entre la théorie et la pratique, ainsi que du fossé entre le plaidoyer et la politique, dans le cadre international du développement de l'éducation.
Pour NSI, Dr.Koumbou Boly Barry, Rapporteur spécial des Nations Unies sur le droit à l'éducation, a déclaré: « Le numéro spécial de NORRAG 01 est un numéro opportun. En 2018, 70 ans se sont écoulés depuis la mise en place de la convention sur les droits humains et surtout leur mise en œuvre. Il est utile de s'assurer que nous sommes en mesure de faire le point, c'est pourquoi je remercie NORRAG de nous avoir donné l'occasion de célébrer cette date anniversaire ».
Cette initiative fait partie du travail de NORRAG pour traduire et disséminer NSI à travers ses partenariats avec les institutions du Sud et à l'Est. Une traduction et contextualisation est disponible en arabe et en chinois et d'autres traductions et contextualisations sont attendues en espagnol et en russe.
La série NSI vise à décentraliser davantage la production de connaissances de NORRAG en promouvant et en faisant participer les membres du NORRAG au Sud. Les rédacteurs invités, Dr. Archana Mehendale et Dr. Rahul Mukhopadhyay, éminents spécialistes de l'éducation basés en Inde, ont développé ce premier volume qui contient, dans sa version anglaise, plus de 30 contributions de chercheurs universitaires, d'organisations des Nations Unies, d'organisations non gouvernementales, et de décideurs.
Téléchargez la version française, espagnole, anglaise, chinoise, russe et arabe de NSI 01 depuis la bibliothèque de ressources de NORRAG: /nsi-01
(Visited 205 times, 1 visits today)