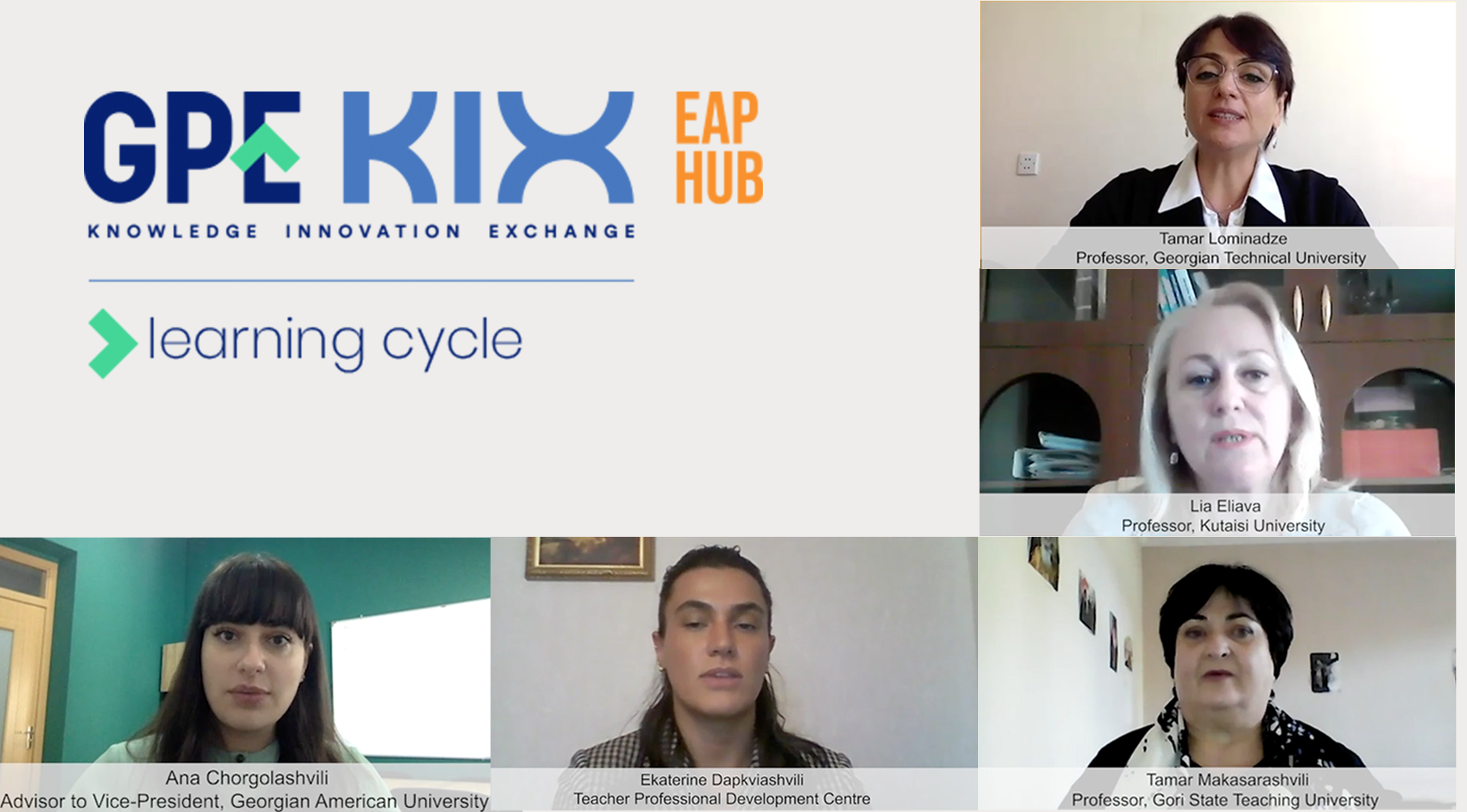 KIX EAP Learning Cycle 1 Experiences
The KIX EAP Learning Cycles are professional development opportunities offered to national education sector experts from 21 GPE partner countries in the EAP region. The First Learning Cycle "Feasibility Study on Scaling Innovation" started on 24 September 2020. The course is offered in Russian for national experts from Georgia, Moldova, Kyrgyzstan, Tajikistan, Uzbekistan, and Kazakhstan.
For the past three months, the national experts have been meeting regularly to learn in lectures, exchange knowledge, and to produce, under the supervision of their KIX EAP instructors, a study on the feasibility of scaling an innovation or a pilot project in their country.
One of the priorities of the KIX EAP project is to amplify the voice and visibility of the national experts. To achieve this, a series of video interviews with the 9 teams of national experts participating in the KIX Learning Cycle 1 will be published on this page. Please find below the first interview with Georgian team A. More videos will be uploaded soon.
---
Обучающие Циклы KIX EAP — это возможности профессионального развития, предлагаемые национальным экспертам сектора образования из 21 страны-партнера GPE в регионе Европа | Азия | Тихоокеанский регион (EAP). Первый Обучающий Цикл "Исследование распространения инноваций" стартовал 24 сентября 2020 года. Курс предлагается на русском языке для национальных экспертов из Грузии, Молдовы, Кыргызстана, Таджикистана, Узбекистана и Казахстана.
В течение последних трех месяцев национальные эксперты регулярно встречались, чтобы учиться на лекциях, обмениваться знаниями и подготовить под руководством своих инструкторов KIX EAP исследование о возможности масштабирования инновации или пилотного проекта в своей стране.
Одним из приоритетов проекта KIX EAP является усиление голоса и видимости национальных экспертов. Для достижения этой цели на этой странице будет опубликована серия видеоинтервью с девятью командами национальных экспертов, участвующих в Первом Обучающем Цикле KIX. Ниже вы можете найти первое интервью команды А из Грузии. Вскоре будут загружены новые видео.
---
إضافة جديدة من قبل الفريق الجورجي أإن الحلقات التعليمية KIX EAP هي عبارة عن فرص للتطوير المهني مقدمة للقطاع التعليمي الوطني من قبل 21 خبيراً من الدول الشركاء في المنطقة. تدور الحلقة التعليمية الأولى حول " دراسة كيفية الارتقاء بالإبتكار" والتي بدأت في 24 سبتمبر 2020. قُدّم المساق باللغة الروسية للخبراء الوطنيين في جورجيا وملدوفيا وقييرغيستان وطاجيكستان واوزبكستان وكازاخستان.
على مدى الأشهر الثلاث الماضية، التقى الخبراء بشكل دوري لحضور المحاضرات ولتبادل المعرفة والعمل على دراسة كيفية الإرتقاء بالإبتكار تحت إشراف المدربين من KIX EAP او حول المشروع التجريبي في بلداهم.
يولي مشروع KIX EAP أولوية كبيرة لإيصال عمل الخبراء الوطنيين بالصوت والصورة وللقيام بذلك سيتم نشر سلسلة من المقابلات مع فرق الخبراء التسعة المشاركين في برنامج KIX الحلقة الأولى على هذه الصفحة، وهذه هي المقابلة الأولى للفريق الجورجي (أ) وسيتم تحميل المزيد من المقابلات في القريب العاجل.
(Visited 306 times, 1 visits today)