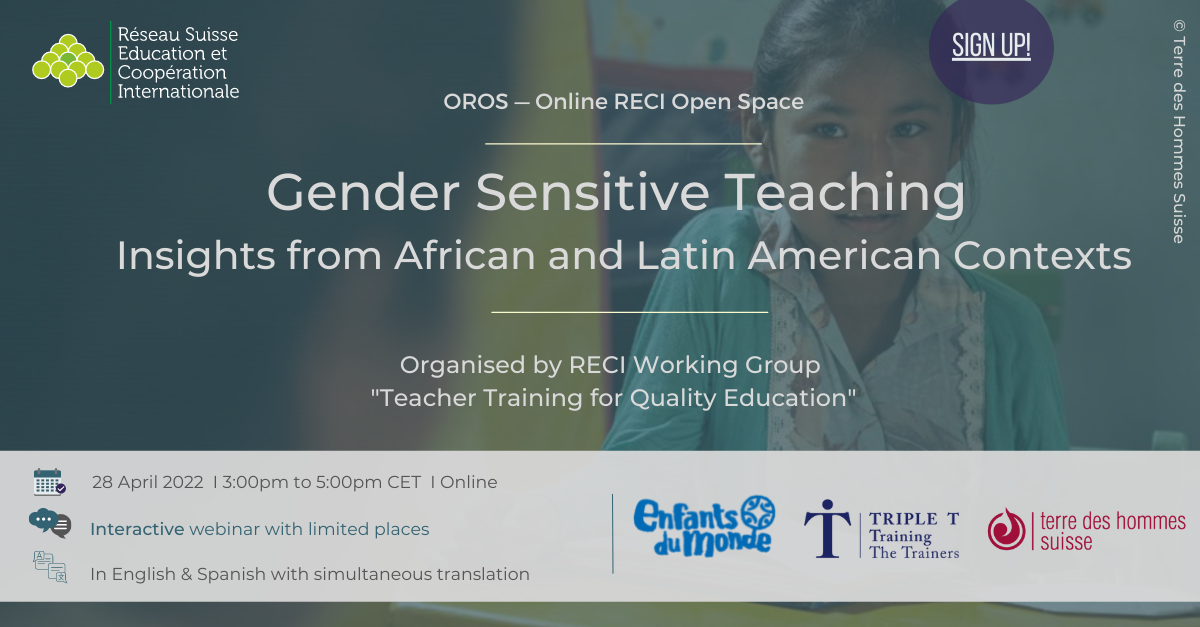 Gender Sensitive Teaching: Insights from African and Latin American Contexts
Date: 28 April 2022
Location: Online
Girls' access to education has increased significantly over the past decades worldwide. However, girls still experience the most extreme forms of exclusion. Gender-sensitive responses must go beyond access to education and mobilise the full potential of education to transform attitudes and practices within the education system.
The webinar builds on three different approaches to gender led by three experts:
Education on gender-egalitarian masculinities: How to train teachers? Lizeth Vergaray, the national coordinator of Terre des Hommes Suisse in Peru, talks about her research on masculinities and the trafficking of girls in the Madre de Dios region in Peru, which has been published by Terre des Hommes Suisse, with the support of the SDC.  Based on the results of this research TdH Suisse in Peru is developing a "toolbox" for teachers to strengthen gender-sensitive teaching.
Prevention of gender-based violence and development of new role models. Sibylle Ganz-Koechlin, TripleT,  presents concepts for mainstreaming gender-sensitive teaching and learning from education projects in Tanzania; the approach is to have training and courses outside of the classroom with trained educators who collaborate with the teachers.
Is the choice of a theme relevant to gender dynamics enough to integrate gender? The case of puberty and menstruation.  Cristina Carulla, Education specialist / Didactics of Mathematics and Natural Science, Enfants du monde presents how the issue of gender was considered in the design process of an Interdisciplinary Didactic Sequence with Enfant du Monde's Chadian and Burkinabe partners. Two questions will be addressed:

Which strategy did Enfant du Monde take to integrate the gender aspect in curricula?
What are the limitations of this strategy? What points of attention emerge?
This webinar is interactive. You are invited to address these topics through interactive discussions, collaboration and reflection in working groups, taking into account their own experiences and projects.
The webinar is in Spanish and English with simultaneous translation.
Note: places are limited
(Visited 95 times, 1 visits today)