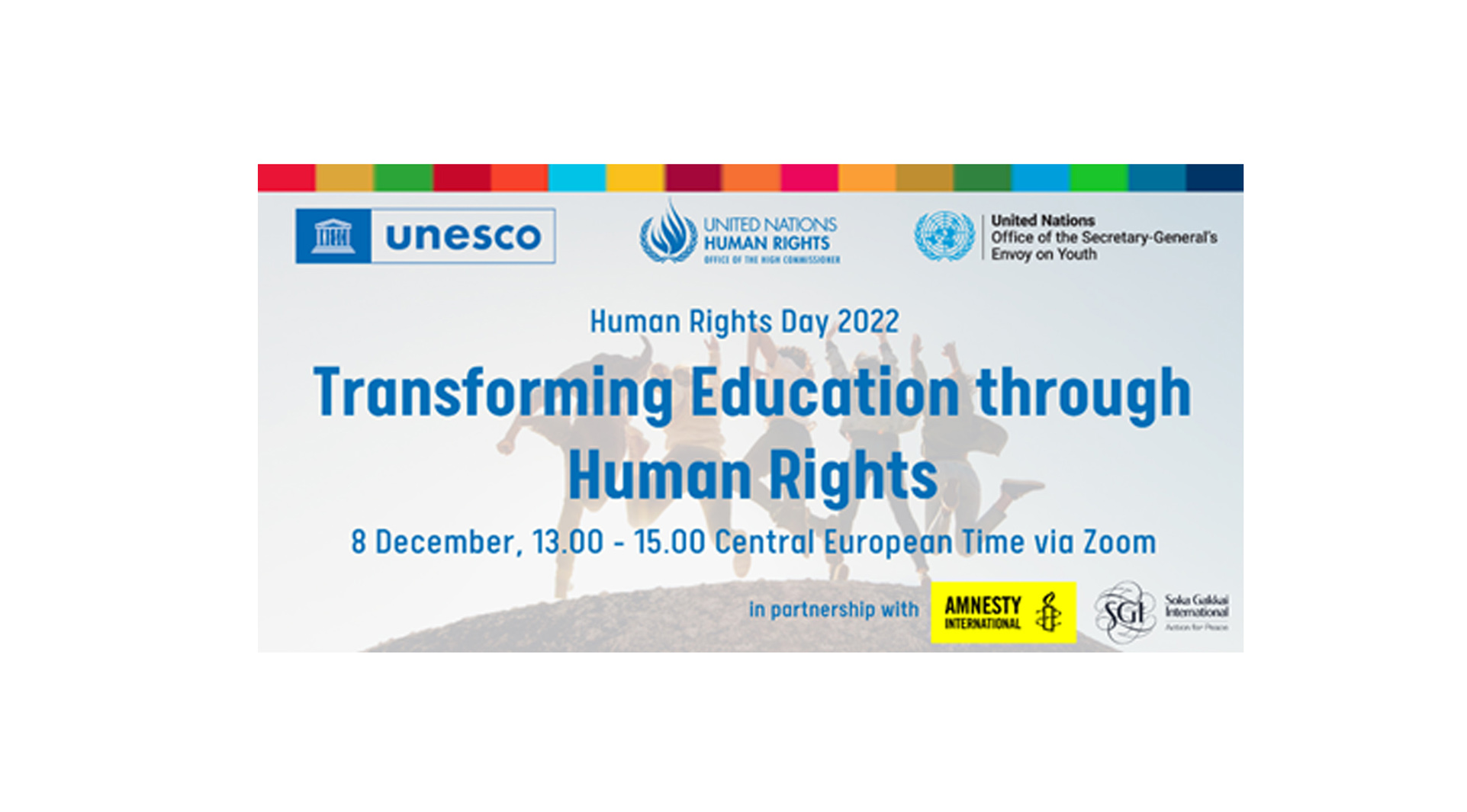 8 December 2022: Event - Transforming Education Through Human Rights
As part of the celebration for this year's Human Rights Day, UNESCO, OHCHR and the Office of the Secretary-General's Envoy on Youth (OSGEY), are co-organising an online event Transforming Education Through Human Rights on 8 December, 13.00-15.00 CET/Geneva. The event will take place on Zoom with English and French interpretation. Due to limited capacity, the event can only accommodate 500 participants. 
Event outline
During the Transforming Education Summit in September this year, a Youth Declaration on Transforming Education was launched. A result of consultations with almost half a million youth around the world, the Youth Declaration embeds young people's collective views, recommendations and commitments on transforming education. Building on these, and to celebrate Human Rights Day, this event aims at bringing young people and decision makers together to discuss young people's perspectives on the evolving right to education as well as how human rights education, in the context of the fourth phase (2020-2024) of the World Programme for Human Rights Education, can contribute to the follow-up and implementation of the Youth Declaration. 
This event will build on the ongoing consultative process of the Initiative on the evolving right to education, representing the first time that youth voices will be heard on the subject of the potential expansion or revision of the international legal framework surrounding the right to education. It will be an opportunity to share experiences, learn from good practices and consider the future of education and its role in building healthy, peaceful and sustainable societies for all. 
For more information please contact: Ms. Hamdi Addow and Right to Education Team (righttoeducation@unesco.org)
Agenda
Welcome, introduction and objectives 
Moderator: Ronelle King, Young Leader for the SDGs (Barbados) 
Opening 
Stefania Giannini, UNESCO's Assistant Director-General for Education 

Nada Al-Nashif, OHCHR's Deputy High Commissioner for Human Rights 

Jayathma Wickramanayake, Secretary-General's Envoy on Youth 

Emmanuel Ganse, Young Leader for the SDGs (Benin) 
Framing the issue: an interactive dialogue 
Farida Shaheed, UN Special Rapporteur on the right to education 

Interviewer: Christopher Castle, UNESCO's Director for the Division for Peace and Sustainable Development
The event will be followed by 3 parallel open dialogue sessions, each focusing on different topics: 
Session 1:

Youth consultation on the evolving right to education
Session 2:

Human rights education & the Youth Declaration
Session 3:

Advancing human rights and peace: education as a cultural right 
(Visited 82 times, 1 visits today)