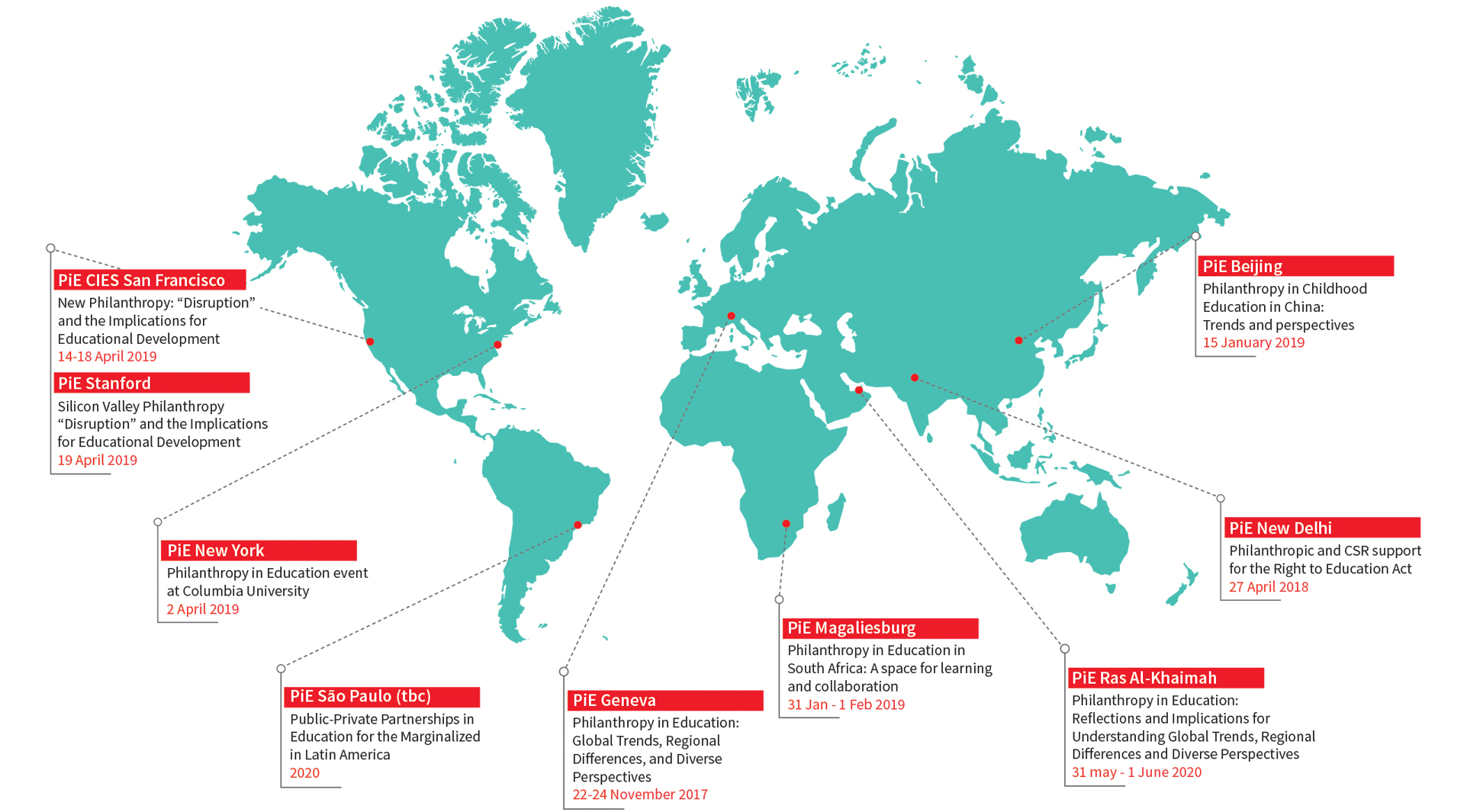 31 May - 1 June 2020: Philanthropy in Education: Reflections and Actions towards 2030 (postponed)
Due to the recent Covid-19 outbreak, this event is postponed. More information will follow shortly.  
About the Symposium
The symposium series Philanthropy in Education: Global Trends, Regional Differences and Diverse Perspectives is an initiative that was launched in 2016 by NORRAG, and the Sheikh Saud bin Saqr Al Qasimi Foundation. It seeks to facilitate greater understanding and collaboration between philanthropic organizations, national policymakers, representatives of international organizations and academics working in the field of education. To date, symposia have been held in Switzerland, South Africa, China, India and the United States. The final symposium of the series will be held in the United Arab Emirates on May 31st & June 1st 2020.
As the number and type of philanthropic organizations continue to grow across the world and they become more influential actors in the education and development sectors, there is a demand to deepen collective knowledge of the sector. Arguably, education and health are the two sectors that attract the largest amount of financial support by individuals, corporations, and foundations. Furthermore, international organizations tend to highlight the importance of cooperating with new partners to achieve the 2030 Sustainable Development Goals. While some studies have highlighted the complementary role that philanthropic institutions play in the distribution of public goods, such as education, other studies have raised concerns related to equity, accountability, neutrality, effectiveness, and efficiency. In addition, a major debate has emerged over the past few years concerning "new philanthropy," notably the focus on results-based philanthropic giving, as well as the vision of "disruption" and innovation as promoted by technology-focused philanthropies. The final symposium will provide a forum to discuss empirical research on philanthropy and education, as well as to hear the experience of practitioners in the field, and address related themes throughout the symposium series. Similar to the regional conferences, the final global symposium, which will be held in the UAE, invites presenters to discuss new trends in the field of philanthropic giving and analyse the new opportunities and new challenges associated with these trends. In addition, there will be several special speakers to open the sessions.
Dr. Alejandra Cardini, Education Program Director, CIPPEC, Argentina
Dr. Arushi Terway, Senior Lead Research Associate, NORRAG, Australia & Switzerland
Dr. Constanza Lafuente, Adjunct Faculty, Teachers College, Columbia University, United States
Dr. Dana Brakman Reiser, Professor of Law at Brooklyn Law School, United States
Daniel Cara, Brazilian Campaign for Right to Education, Brazil
David Archer, Head of Participation and Public Services, ActionAid International, United Kingdom
Prof. Gita Steiner-Khamsi, Professor, Columbia University, New York and Graduate Institute, Geneva; Director of NORRAG, Switzerland & United States
Ian Macpherson, Lead Knowledge and Innovation Exchange (KIX) & Senior Education Specialist at the Global Partnership for Education (World Bank Group), United States
Prof. Mary Metcalfe, Director, Education Change at the Programme to Improve Learning Outcomes (PILO), South Africa
Dr. Natasha Ridge, Executive Director, Al Qasimi Foundation, United Arab Emirates
Dr. Nishant Chadha, Fellow and Head, India Development Foundation, India
Location and date
Hosted by the Sheikh Saud bin Saqr Foundation for Policy Research in Ras Al Khaimah, UAE at the
Hilton Garden Inn Ras Al Khaimah on May 31st – June 1st, 2020.
Travel & Visa
Participants will be responsible for making their own travel arrangements and obtaining a visa to enter the United Arab Emirates.
For more information on visa requirements, please visit the official UAE government portal on visa regulations or contact the nearest UAE Embassy or Consulate.
The PiE Organizing Committee will be able to issue invitation letters as supporting documents to individuals who have registered for the symposium. To request a PDF invitation letter, please send an email to philanthropyineducation@gmail.com after registering for the symposium.
Registration Fee
The registration fee is 350 AED ($95 USD) for all attendees, except for students who have a reduced fee of 200 AED ($55 USD). The registration fee for presenters must be paid by April 18, 2020. Failure to pay the registration fee by this date will result in cancellation of event participation.
Registration for the symposium is now open. In order to complete the registration, please fill in the online registration form and proceed to the payment portal. Please note that the registration process is not complete until you have received a confirmation email and receipt of the registration fees. In addition, please feel free to circulate the registration link to anyone who would be interested in attending the symposium.
Accommodation
The Hilton Garden Inn Ras Al Khaimah, has provided a special rate for attendees of the conference at 246 AED (67 USD) per night, inclusive of all taxes and fees (limited availability). This special rate will be shared after paying the registration fee for the event (within 72 hours).
Should you wish to consider other nearby hotels, we suggest one of the following. However, please take care when booking, as there are 7 Hilton hotels in Ras Al Khaimah, but only these 2 are within a short distance of the conference venue: Hilton Garden Inn.
Double Tree Ras Al Khaimah (walking distance, across the street, great value)
Hilton Ras Al Khaimah Resort & Spa One of Ras Al Khaimah's best beach resorts with 7 outdoor pools and 1.5 km of private white sand beach. Less than 10 minutes away from the Hilton Garden Inn by shuttle or taxi.
Co-Sponsors
For more information about the co-sponsors, visit:
If you have any questions, please contact us via email: philanthropyineducation@gmail.com
(Visited 1,592 times, 1 visits today)