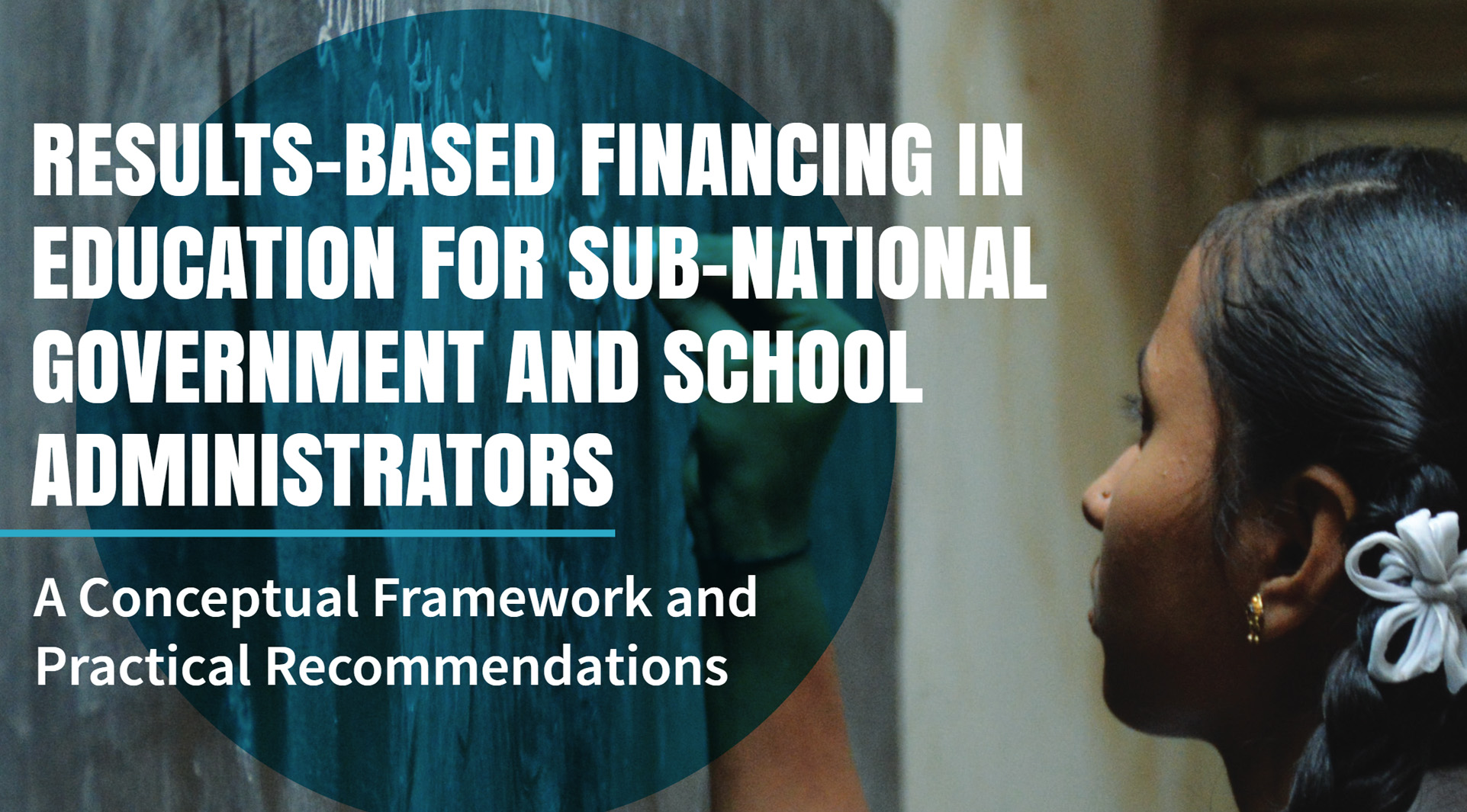 NORRAG publications provide insights and recommendations on results-based financing in education
Building on its expertise in innovative financing for education (IFE), the NORRAG team has released new publications on the use and impact of Results-Based Financing (RBF) in low- and middle-income countries. The recently published pieces look into the use of RBF to incentivise actors and institutions in charge of education system management and administration at either local government (e.g. province, region, district) or school level (e.g. school directors, school management committees). In addition to contributing to the global evidence base on the topic, the publications provide lessons on the use of such mechanisms at this understudied sub-national level, as well as recommendations for strengthening the link between results and funding.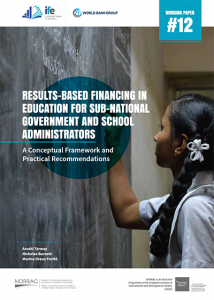 The first publication, Results-Based Financing in Education for Subnational Government and School Administrators: A Conceptual Framework and Practical Recommendations (Working Paper #12), draws upon the implementation of over fifty RBF interventions and the experience of experts who have designed, implemented and/or researched RBF in education initiatives at the sub-national level. To examine such interventions, the study applies the Principal-Agent theory – the framework used to explain the causal mechanisms at work in using RBF to improve education service delivery. The study finds, however, a divergence from the universal theory needed to explain the unique nature of sub-national actors' work. Based on this, the authors propose broadening the definition of RBF and viewing it as a set of reforms that align the objectives of multiple stakeholders by focusing on a common results framework, linking financing to these results, strengthening results measurement, and giving autonomy to actors on how to achieve the results. Furthermore, the study proposes to apply learnings from the Performance-Based Budgeting literature so that RBF for sub-national administrators and managers in education systems can be implemented in a differentiated way, depending on the contextual reality of each system. A comprehensive list of RBF interventions and their key features has been provided in the Annex of the publication. To conclude, the publication provides key recommendations to consider when designing RBF interventions in education at the sub-national level.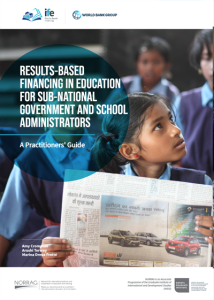 In addition, this study is paired with a companion guide that provides advice to practitioners involved in designing and/or implementing RBF interventions targeted toward sub-national actors and/or institutions responsible for education management or administration. Titled Results-Based Financing in Education for Sub-National Government and School Administrators: A Practitioner's Guide, this 23-page publication provides advice on selecting the appropriate RBF approach from three core models borrowed from performance-based budgeting (funding-linked performance targets, agency-level performance incentives, purchaser-provider model). The guide details six steps for designing an RBF intervention while outlining key decisions and processes that warrant careful consideration. Through these steps, the practitioner's guide discusses good practices for defining results and incentives and aligning stakeholders through a theory of change and capacity strengthening that foster a results-focused culture. The guide also addresses considerations for supporting the sustainability of RBF at both the intervention and education system levels.
The two publications are a result of research commissioned to NORRAG by the World Bank's Results in Education for All Children (REACH) programme. Ultimately, these are part of NORRAG's effort to build empirical evidence on what works and what does not work in using innovative financing for improving equitable and inclusive quality education. Visit the IFE page to access other publications and learn more about NORRAG's work on the topic.
(Visited 142 times, 1 visits today)