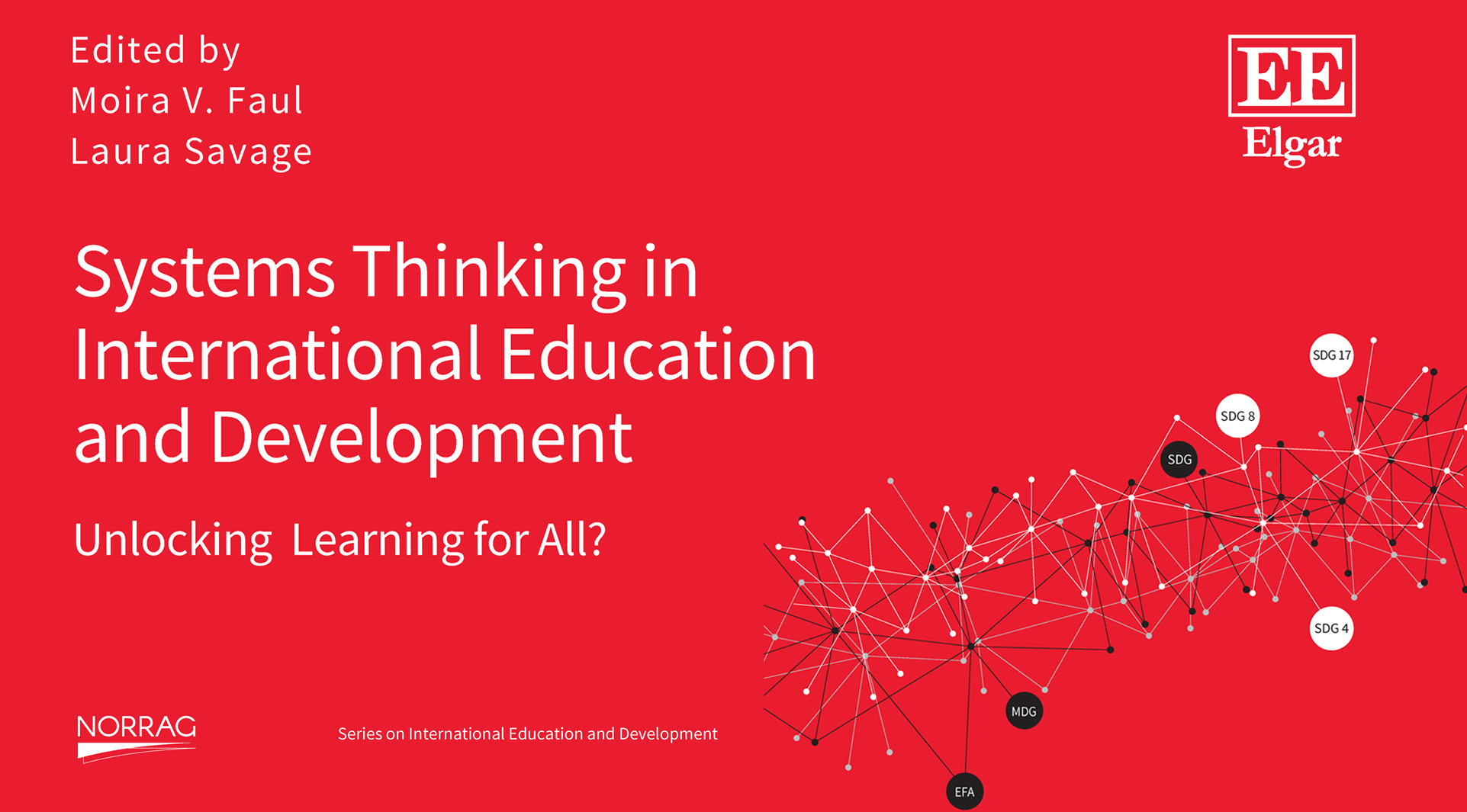 New book: Systems Thinking in International Education and Development edited by Moira V. Faul and Laura Savage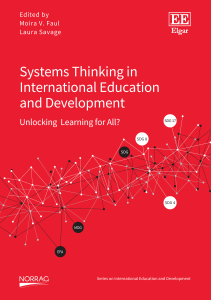 Systems Thinking in International Education and Development: Unlocking Learning for All? was published in January 2023 as an open access title published by E. Elgar Cheltenham, UK. The volume is edited by Moira V. Faul, Executive Director, NORRAG and Laura Savage , Associate Member, Research for Equitable Access and Learning (REAL) Centre, University of Cambridge, UK.
The book is the fourth volume in the NORRAG Series in International Education and Development. The books in the series intend to generate an international debate on emerging trends in education and provide space for authors that represent diverse perspectives and knowledge communities.
The book underlines the urgency, scale and complexity of the crisis of declining student learning trajectories despite significant financial investments and reform efforts and proposes systems thinking as a way of understanding the global education crisis and driving the real change that is needed to achieve SDG4.
The global education crisis is a complex problem that requires change from teachers, school managers, civil society, implementers, planners, governments and donors. Addressing the issues that lie beneath this crisis requires new ways of working. Systems thinking is a suite of approaches to grappling with complex problems that are beginning to gain traction in international education. This book brings together new research in the nascent field of systems thinking in international education.
Outlining the implications that systems thinking can hold for future research, practice and progress towards Sustainable Development Goal 4, a diverse range of leading scholars, policymakers and practitioners present novel research to encourage the shift from a linear view of change to a systems view. Chapters present diverse approaches to applying systems thinking in education across the middle- and low-income countries, alongside research on how this has changed mindsets more widely. Questioning notions such as scaling and the universal applicability of 'what works', the authors here suggest that locally relevant evidence and systemic rewards for using it are necessary to achieve SDG 4. This innovative book exemplifies how systems thinking offers the tools, frameworks and concepts to improve outcomes in education systems.
With the education crisis further exacerbated by the COVID-19 pandemic, this timely book is essential reading for all those concerned with education and sustainable development goals. This thought-provoking book should be read by all those working to achieve SDG4; those whose day jobs inspire them and who look to their bookshelves for new ideas.

Watch the video presentations in our showcase
A launch event took place on 8 February 2023 featuring editors and authors of the book for a panel discussion.
Read this open access book on the Edward Elgar website.
---
Contents of the book:
Chapter 1: Introduction to Systems Thinking in International Education and Development (Moira V. Faul and Laura Savage)
Part I: From practice to systems thinking
Chapter 2: Reflections on systems practice: implementing teaching at the right level in Zambia (Varja Lipovsek, Laura Poswell, Ashleigh Morrell, Devyani Pershad, Nico Vromant, and Abe Grindle)
Chapter 3: Collaborative professionalism and education system change: new evidence from Kenya, India and Rwanda (Charlotte Jones, John Rutayisire, Donvan Amenya, Jean-Pierre Mugiraneza, and Katie Godwin)
Chapter 4: Global education funders' perspectives on the potential of systems thinking to change education practices and achieve mass learning gains (Laura Savage, Clio Dintilhac, Raphaelle Martinez, Tjip Walker, and Jason Weaver)
Part II: From theories to systems thinking and practices
Chapter 5: Understanding travelling reforms from a systems perspective (Gita Steiner-Khamsi)
Chapter 6: Using a systems approach to education and development: insights from a multi-country research programme on access and learning (Keith M. Lewin)
Chapter 7: System coherence for learning: applications of the RISE education systems framework (Michelle Kaffenberger and Marla Spivack)
Part III: Applying systems approaches in practice
Chapter 8: Adapting inclusive systems development (ISD) to vocational education and training (VET) and skills development (Mike Klassen, Sandra Rothboeck, and Ailsa Buckley)
Chapter 9: Systems, complexity and realist evaluation: reflections from a large-scale education policy evaluation in Colombia (Juan David Parra and D. Brent Edwards Jr)
Chapter 10: Can systems thinking tools help us better understand education problems and design appropriate support? Reflections on a test case (Elena Walls and Laura Savage)
Part IV: Conclusion
Chapter 11: Conclusion: beyond silver bullet solutions (Moira V. Faul and Laura Savage)
Back Matter
Praise for the book
'Systems thinking has been successfully applied to address service delivery challenges in many sectors, especially health. While it is a relatively new approach in education, systems thinking will become a commonly used tool in delivering quality education post the ravages of covid. This book, consisting of 11 chapters and authored by a wide range of reputable practitioners on the topic, will become a valuable companion to donors, policy makers and implementers down to the classroom level striving to provide quality learning for all children.'
– Dzingai Mutumbuka, First Minister of Education of Independent Zimbabwe, former Chair of ADEA, former Sector Manager at the World Bank and currently serves on numerous education boards
'Given what we know about complexity theory and the insights it offers into how we might go about initiating and sustaining change in education, it's hard to imagine taking on the perennial challenges in international education and development without first understanding what dynamic systems approaches have to offer in this domain. Perhaps the biggest of those challenges lies in enabling quality learning for all – and this volume takes that on through a systems approach, considering examples of such thinking and practice from across the globe and asking how systems thinking might help in the design and implementation of interventions aimed at realizing Sustainable Development Goal Four. It's hard to imagine how we've done without this book for so long.'
– Mark Mason, The Education University of Hong Kong
'The language of change is often slippery, nowhere more so than discussing "systems". Is "system" merely a synonym for bureaucracy, or a non-linear, unpredictable and constantly evolving network? When advocates of change use the term interchangeably, confusion is the inevitable result. In this book, Faul and Savage disentangle the two, show how the broader understandings of "systems thinking" apply to the education sector, and explore a series of case studies for additional insights. A valuable contribution.'
– Duncan Green, author of How Change Happens; Professor in Practice, London School of Economics, UK; Strategic Adviser, Oxfam GB
(Visited 2,608 times, 1 visits today)