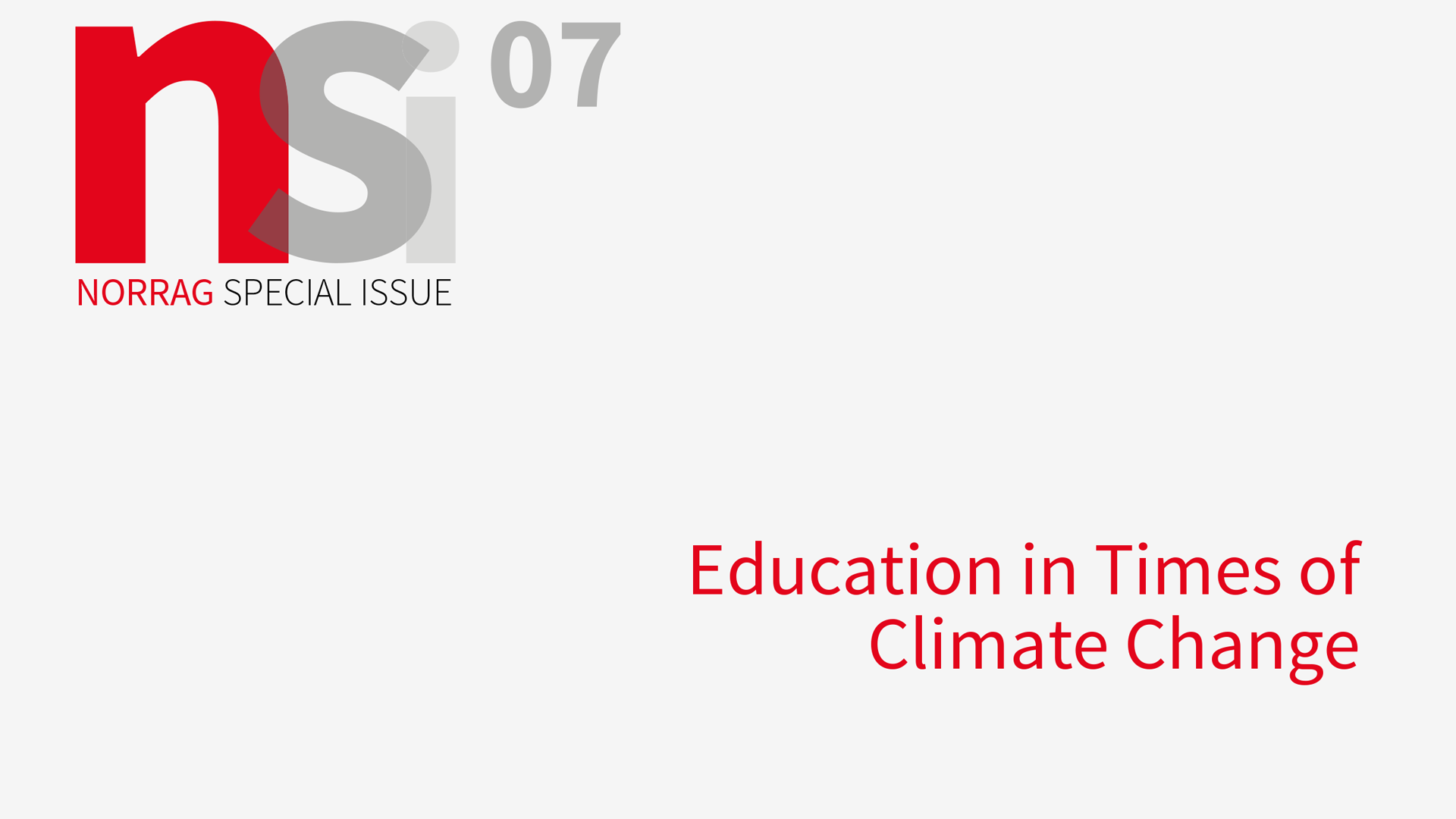 Launch Event: NSI 07: Education in Times of Climate Change
On 6 October 2022 from 16h00 – 17h30 (CEST/SAST), NORRAG is organising a launch event for the seventh edition of NORRAG Special Issue (NSI) entitled "Education in Times of Climate Change".
NSI 07 addresses the question of how education is to equip learners to participate in climate action that would fundamentally disrupt existing problematic systems. This NSI has the potential to inform pedagogical praxis, co-learning, curriculum, climate action, policy formulation, frameworks for evaluating success, resourcing decisions and what we might consider educative acts for engaging with climate change and its multi dimensional uncertainties, risks and opportunities.
After an introduction by the guest editors, Distinguished Professor Heila Lotz-Sisitkaand and Professor Eureta Rosenberg from the Environmental Learning Research Centre, Rhodes University (South Africa), the authors of articles in NSI 07 will present global and national perspectives on the question of climate change and education. A panel discussion will be followed by a Q&A with the audience. The launch event, which takes place online, is oriented towards researchers, policymakers, practitioners and advocates who are interested and engaged in education broadly, and education financing specifically.
Programme
Welcome
Introduction
Distinguished Professor Heila Lotz-Sisitkaand, Environmental Learning Research Centre, Rhodes University
Professor Eureta Rosenberg, Environmental Learning Research Centre, Rhodes University

Panelists
Professor John Holmberg, UNESCO Chair in Education for Sustainable Development
Professor Rosa Guadalupe Mendoza Zuany, Universidad Veracruzana
Professor Aaron Benavot, University of Albany-SUNY
Dr Justin Lupele, Beehive Associates
Mr Sidney Muhangi, Rhodes University and visiting scholar at University of Nottingham
Dr Christina Kwauk, Kwauk and Associates and fellow at the Centre for Universal Education
Dr Sarah Van Borek, Rhodes University
Q&A with the Audience and Closing Remarks
About NSI 07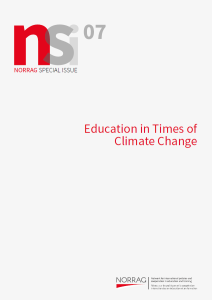 Climate change is not a new issue for education, but new levels of consensus and concern are emerging, suggesting that new policy developments may follow, with hopefully a stronger connection to the educational opportunities, challenges and inequalities around the world and in particular in the Global South. Just how this is to be done in education at all levels, is not always clear. Educators in diverse fields need to do and share a deeper analysis of climate change education needs around the world quite urgently in order to inform policy formulation, the evaluation frameworks for success, and resourcing decisions.
NSI 07 English edition consists of 28 articles written by 75 authors from 22 countries in all continents, which aim to highlight global and national-level experiences and voices. Perspectives are included from young scholars, early career educationists and development practitioners, as well as internationally renowned practitioners and academics who have devoted their careers to sustainability and educational change.The Special Issue is composed of eight sections:
Part 1: Overview Perspectives
Part 2: Expanding Learning and Agency Across Boundaries
Part 3: Transforming Learning, Activism and Relating
Part 4: Engaging Diverse Knowledges in Climate Change Response
Part 5: Young People and the Call for Climate Action
Part 6: Children's Voices in Climate Action
Part 7: Transforming Higher Education for Sustainable Futures
Part 8: Inclusive, Responsive Educational Transformations in Service of Sustainable Futures
To familiarise yourself with the content of NSI 07 prior to its launch in July, please have a look at the brochure and table of contents at the link below.
(Visited 35 times, 1 visits today)