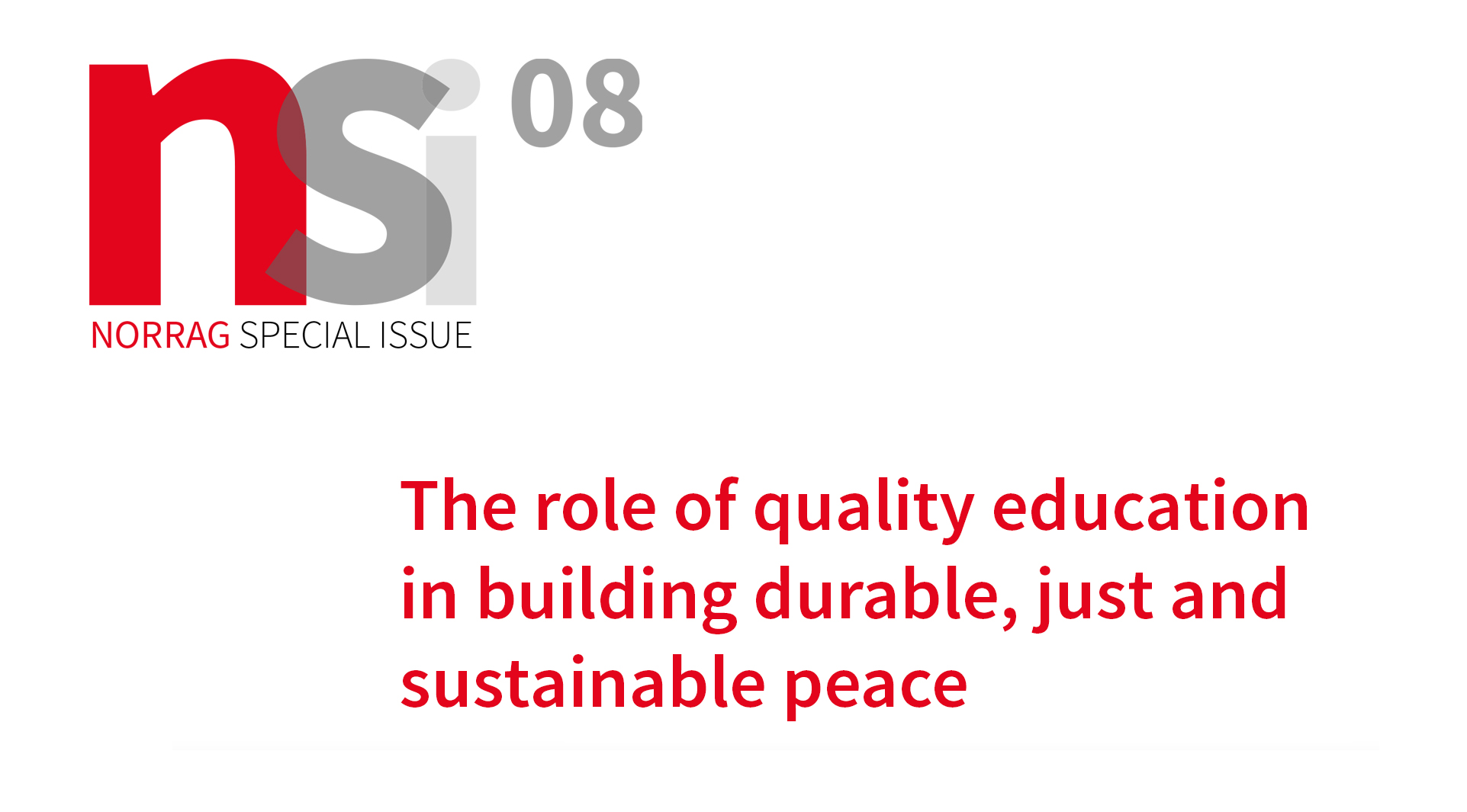 Call for contributions: NORRAG Special Issue 08: The role of quality education in building durable, just and sustainable peace
Background: Quality education can be a powerful tool in creating social cohesion and fostering more democratic societies. In contexts of crisis and existing conflict, quality education can make an important contribution to peacebuilding and the achievement of sustainable development. The COVID-19 pandemic, which left 1.6 billion students shut out of school at its height (UNESCO, 2020) has layered additional barriers to the education of children and young people affected by conflict and crisis.
While there is significant literature on peace education, education for conflict prevention (see UNESCO-IIEP), education for peace, affective education, social-emotional learning, the potential of the 'triple nexus' between education, peacebuilding and sustainable development requires further exploration. Too often the potential of peace education in crisis contexts remains disconnected from both policy and practice. This disconnect reduces the contribution that quality equitable education can make in addressing the root causes of conflict whilst supporting sustainable development.
In the above context, this NORRAG Special Issue will look at the role of quality education in creating culture of peace (SDG 4.7) and peacebuilding, from a theoretical, policy and programmatic lens focused and centred on the global South and organised around six themes:
Deconstructing the notion of peace and quality education for peacebuilding and peace education
Exploring how international aid systems for education and peace intersect to support peacebuilding.
Peace education in national education systems.
Teachers' work and teacher professional development and peace education
Curriculum – peace education and peacebuilding in the Global South and Global North
Pedagogies of peace
We especially encourage contributions that across all the themes above consider the difficulties and challenges in transforming education systems. As such we invite critical reflections on why positive change for peace is difficult to achieve in diverse contexts. We are particularly keen to solicit articles that consider the often unintended and perverse outcomes of education reforms and interventions, focusing on why policies and programmes do not work as much as they do work, and under what conditions.
To read the full Call for Contributions, and to find out how to submit your abstract, please click here.
Deadline: 15 January 2022.